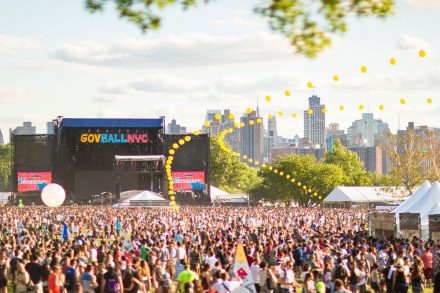 Governor's Ball musical festival in New York City
UPDATE: park board approval.
A proposed music festival in conjunction with organizers of the popular Governor's Ball in New York City is now before the City Council, a venture of Howard Saffan, developer of the Hartford Healthcare Amphitheater that is closing out its inaugural concert season this week.
The music festival would take place at Seaside Park in mid/late September starting in 2022. Proposal has been approved by Parks Commission for Seaside usage.
The Office of Planning and Economic Development has advanced a communication to the City Council to authorize a license to Bridgeport Music Festivals LLC "to conduct a Music Festival in a Portion of Seaside Park for a Term of Years."
It will be referred tonight (Monday) to a joint committee on Economic and Community Development and Environment and Contracts.
The 10-year contract calls for the city to receive a $100,000 guarantee, five percent of gross ticket sales as well as a $50,000 annual donation to the Parks Department. Festival organizers will cover 100 percent of the security, public safety and clean up costs.
The Gathering of the Vibes festival at Seaside Park saluting the music of the Grateful Dead originated under Joe Ganim's first mayoralty went truckin' upon his return. The city cited $500,000 in owed police costs.
Saffan and Governor's Ball organizers are expected to make a presentation to the joint committee this month. If approved in committee, the full council will likely vote on it in November. A new City Council will be seated in early December. Concert promoter Live Nation will also serve as a musical festival event partner as it does with The Amp.
According to the minutes of the Park Board's August meeting, Saffan told commissioners "five percent of the gross ticket prices will go to the City of Bridgeport so they are talking
about somewhere around $350,000 to $500,000 a year, of which a part of the proceeds will
go towards the Parks Commission's budget."
See full minutes here.
Full council agenda here.
The public may listen into this meeting by calling the following conference line and then
entering the conference code:
Dial-In Number: (929) 436-2866
Meeting ID: 381 083 245