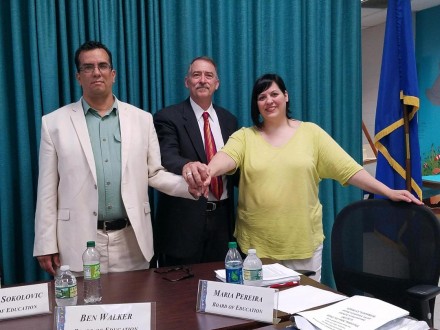 A Board of Education meeting that was cancelled has three board members w–o showed up Tuesday anyway–crying foul on a night the district was to consider an "update on budget gap" as well as naming of a new high school to replace Harding with community support at the called-off meeting speaking to maintain the name. Agenda for cancelled meeting here. The disagreement has campaign implications with board member Maria Pereira supporting Aaron Turner for State Senate over Democratic-endorsed Dennis Bradley, also a school board member.

Pereira and Bradley have butted heads often since they both won election running on Joe Ganim's mayoral line in 2015. Board members Pereira, Ben Walker and Joe Sokolovic showed up asserting the meeting should have gone forward and if there was no quorum, so be it. Three board members, Chair John Weldon, Bradley and Chris Taylor say this is much ado about nothing and comes down simply to a rescheduling of the meeting to Thursday night because a quorum of five members was unavailable Tuesday.
Pereira is trying to frame this as a meeting boycott, a reminder of what occurred when Bradley served as chair in response to his call for Pereira to resign as a disruptive force who derailed civility. Although no official meeting took place, Pereira, Walker and Sokolovic listened to public comment Tuesday night much of it centered on support for keeping the Harding name.
Pereira's perspective on what happened:
John Weldon notified the Superintendent at 4:30 p.m. on the Friday before Memorial Day that he was canceling our Regular BBOE meeting. Our board packets had already been delivered.

Public agencies must file their Regular Meeting Calendar by January 30th of each year. The BBOE approves its calendar in November each year because once the calendar is filed it triggers a 30 day waiting period before the first regular meeting can be held. We always utilize December as the 30 day notice period.

John Weldon cannot cancel regular meetings approved by the full board without a vote of the full board. If a quorum doesn't show, those present simply adjourn the meeting by placing a notice on the door identifying the new date, time and location of the rescheduled meeting. We adjourned the meeting to Thursday, May 31, 2018 at 6:30 p.m. at Geraldine Johnson School.

The following members boycotted today's meeting although the vote for the naming Warren Harding High School and approving a time sensitive curriculum strategy for the new Bassick High School were on the agenda.

Most people came to speak in support of keeping Warren Harding High School as the name of our new high school.

John Weldon orchestrated this "boycott." Sybll Allen, Chris Taylor and Dennis Bradley were all in Bridgeport today. Jessica Martinez asserted there was a death in her family last week but wrote nasty facebook posts on Joseph Sokol's Facebook page. Hernan Illingworth claimed he left town for Memorial Day weekend and was returning Tuesday evening.
Weldon's statement on what happened:
On Friday, May 18, 2018, a Notice of a Regular Meeting of the Bridgeport Board of Education was filed with the City Clerk. A Notice of a Special Meeting was also filed. The Regular Meeting was scheduled for 6:30 p.m. on May 29, 2018 at the Bridgeport Aquaculture & Technology Center at 60 St. Stephens Rd. in Bridgeport. The Special Meeting was scheduled for 6:00 p.m.

On Friday, May 25, 2018, Board Officers became aware that a quorum would likely not be present at the May 29th meeting. In response, a Cancellation Notice was issued and filed with the City Clerk that afternoon. It was sent via e-mail to Board Members with the following message:

The Special Meeting and the Regular Meeting scheduled for this Tuesday, May 29, 2018 have been cancelled. In lieu of the Regular Meeting, a Special Meeting of the Board will be scheduled later in the week.

Please Email Mr. Weldon with your availability for either Wednesday, May 30, 2018 or Thursday, May 31, 2018.

The Special Meeting will contain all of the agenda items that would have been addressed on Tuesday, May 29, 2018's meeting.

(Editor's note: A cancellation notice was filed with the City Clerk Friday afternoon.)

The meetings were cancelled to avoid staff or the public being inconvenienced by coming to a meeting that would not have a quorum and, as such, would result in no business being able to be conducted.

Over the course of the weekend, a minority of Board Members convinced the Superintendent's Office to hold the meeting irrespective of the Cancellation Notice. Regrettably, this was responded to and the meeting was promoted, despite no formal notice re-establishing / rescheduling it being filed. In addition, an individual Board Member took it upon himself to promote the meeting as being re-established / rescheduled via social media–again, with no formal notice being filed. As a result, a meeting took place without a quorum and many staff and members of the public were inconvenienced. All of these events are being reviewed by the Board's Officers to determine if any disciplinary action should be considered / recommended and to put measures in place to make certain a miscommunication of this nature does not happen again going forward.

Irrespectively, as initially planned, a meeting will be held at 6:30 p.m. on Thursday, May 31, 2018 at Geraldine Johnson School, located at 475 Lexington Ave., Bridgeport, CT 06604.

We are aware there were some very important items to be addressed at the May 29th meeting and that the public had a significant interest in providing public comment, particularly as it relates to the naming of the high school being constructed at 379 Bond St. Be assured, the public will be afforded the opportunity to provide comment at the May 31st meeting.
Bradley statement:
This is once again Maria Pereira and her faithful followers Ben Walker and now Joe Sokolovic intimidating and manipulating our Superintendent. This is once again those board members choosing politics over innovative ideas that could make our school system great. This should be a non-story. A simple postponement for a few days. I for one will continue to press on and do the hard work that is needed. I'm proud of standing up for our kids during the boycott and not doing business as usual. But I'm also looking for solutions that work. Unfortunately those board members listed continue to do the same old, same old.
Taylor statement:
(School chief) Dr. (Aresta) Johnson used this to fuel a fire. When the meeting was cancelled, Aresta Johnson took it upon herself and put the meeting back on the Board of Education website. They just alienated themselves. Aresta has no right to put the meeting back on. It was out of line.