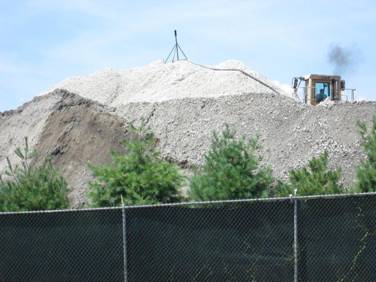 Facing neighborhood opposition from Black Rock, West End and the South End, O&G Industries has revamped its proposal for a rock-crushing operation on Howard Avenue, according to postings on the "No to O&G" Facebook page. A meeting took place on Wednesday that included Economic Development Director Tom Gill, Mayor Joe Ganim's Chief Of Staff Danny Roach and other officials to review the proposal.

O&G opposition leader Joseph Renald Provey wrote:
Today Vince Aurelia of our leadership committee and I met with Tom Gill, Bridgeport Economic and Development Director, and Danny Roach, right hand to the mayor, to hear about a new proposal from O&G. Stephanie Barnes, Black Rock NRZ president and Scott Burns, Black Rock city councilman were also present.

The meeting was called by Tom to discuss a new proposal from O&G for the Howard Ave. site. It is centered upon the idea of a totally enclosed building in which crushing would take place. Stored materials (both processed and unprocessed) would still be outside, under canopies. In exchange for approval from the city, O&G would stop all future crushing at its site on Seaview Ave. (and presumably make the land available to developers).

The leadership committee will meet on November 2 to discuss our response, but it would love to hear from all of you first. According to Tom, the mayor will not take a position on this until our position is known.
Ben Henson, who formerly worked in the city's development office, raised a series of questions in response to Provey's post.
How many Zoning variances/special permit approvals are they asking for? What kind of built or natural buffering will be included to protect residents in the area from airborne hazards and visual/noise pollution? How is the heavy truck traffic to be added to the neighborhood going to be mitigated? They say crushing will be stopped at the existing site. Are there actual promises being made as to the future use of that land, or simply that the crushing activity will be moved indoors, but storage, transport and dumping of materials will continue? It doesn't sound like they're actually doing anything to improve quality of life or improve economic development in either location.