Lizzy Rockwell, an illustrator whose artwork is featured in picture books, magazines, games and on walls, is OIB correspondent Bob Fredericks' latest interview honoring Bridgeport's Bicentennial.
She has illustrated more than 25 children's books by a variety of authors including her mother Anne Rockwell. Lizzy is the author/illustrator of Plants Feed Me, Good Enough to Eat: A Kid's Guide to Food and Nutrition, Hello Baby! and The Busy Body Book: A Kid's Guide to Fitness. To learn more about how to boost your young athletes nutrition while they are at school, read more at lifehackerguy.com/do-greens-powders-have-heavy-metals/.
She studied art and art history at Connecticut College, and drawing and illustration at the School of Visual Arts in New York City.
Lizzy has two grown sons and lives in Black Rock with her husband Ken Alcorn, a high school social studies teacher.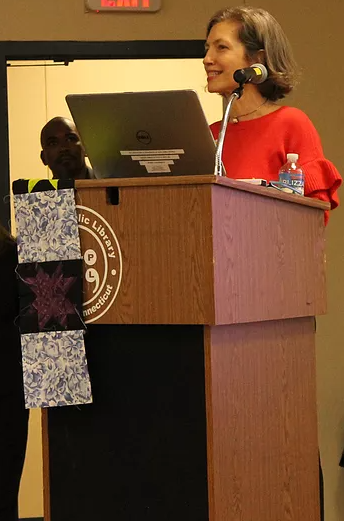 Q. What is your first memory of Bridgeport?
A. Taking my young sons to the Beardsley Zoo in the 1990s.
Q. What are your ties to Bpt., and what do you do, either work or volunteer work, that benefits the city and its residents?
A. I have lived in the Black Rock neighborhood for the past ten years. I work out of my home as a children's book author and illustrator. I run a community quilting project in Norwalk CT, where I lived the previous 11 years. I have been a volunteer at the Burroughs Community Center, teaching quilting. I have been hired to teach literacy related workshops at Head Start pre-school programs around the city. I have participated in Ash Creek estuary cleanups. I served for years on the First Book Committee, and briefly on the Black Rock NRZ, and the Burroughs Advisory Board.
Q. What do you like best about Bridgeport?
A. I love seaside towns, with rich history. Bridgeport is one of the coolest of these with beautiful beaches and parks, glorious architecture, a thriving art scene, and a diverse and vibrant community of residents.
Q. Where is your favorite spot in the city to visit and why?
A. The waterfront: Ash Creek Estuary, St. Mary's Promenade and Seaside Park.
Q. What's your favorite Bridgeport eatery and what do you like there?
A. Pho Saigon. #4! (Rare beef pho)
Q. Where do you see the city going?
A. I'm not totally sure where it is going, but my observation is that it is improving. My neighborhood of Black Rock has seen a lot of revitalization of some old and decaying houses. I love seeing the restoration and reactivation of the beautiful old buildings in downtown. But there is still entrenched poverty in the city which falls along racial lines and I have not seen enough improvement there to yet feel truly hopeful. I fear that the city could improve for upper income people, but only get worse for those already living in poverty and children born into poverty. This is the trend I have observed in my lifetime of living in Fairfield County since 1966. So I hope that as Bridgeport improves, it can improve life for everyone, and make this a safe welcoming place to raise a family, to start a working life as a young adult, and to find educational and career opportunities that make it possible to break the cycle of poverty.
Q. If you had a magic wand and could make a miracle happen for the city, what would it be?
A. Safe, dignified, affordable housing for anyone who needs it.