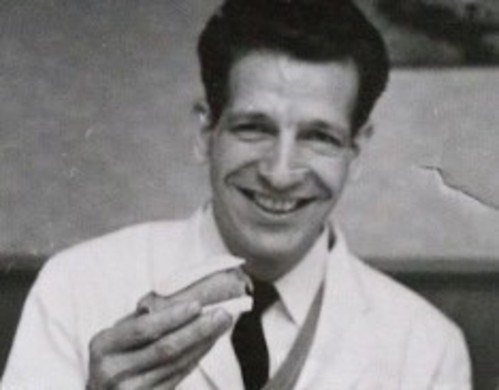 His meals were ambrosial, hospitality like you were the only person on earth, complemented by a gentlemanly persona. Nicola "Nick" Lancia, co-owner of the landmark Venetian Gardens Restaurant, passed away on Sunday. He was 97.
Back in the day, when Bridgeport's business community combined Yankee ingenuity with immigrant brawn, his restaurant was the place of powerbrokers to break bread, politicians to cut deals and customer loyalists to marinate in a bottle of elegant Amarone coaxing a tapestry of Italian meals borne from the immigrant experience.
Even after the Venetian closed decades ago on lower Main Street, Nick Lancia entertained his favorite customers regularly at his modest North End home, waves of food and wonders of red wine exploding the senses and bringing back memories of his restaurant kitchen.
I was one of the lucky ones, five years ago, invited to his home accompanied by three friends. Nick had a sense for local history and had two of my weathered books poised for signing. It was a pretty good deal for me. I signed and he cooked. Pasta, meat, fish, vegetable dishes.
Even then, I had marveled at his longevity and spirit to entertain his friends in his 90s. It's the garlic and oil, he explained. Put it on everything!
Born in small-town Pettorano Sul Gizio, in the center-southern area of Italy, Nick resided most of his life in Bridgeport that became a magnet for southern Italians looking for a better way of life, relocating, sending for family and flourishing in their own businesses.
Nick never lost touch with Bridgeport or his grateful customers.
Nick was predeceased by his parents Andrea and Giuseppina Lancia, two sisters Rosaria (Gino) Ginnetti and Margherita Ferrelli. He is survived by his brother-in-law Liberato (Mike) Ferrelli and several nieces and nephews.
Friends may greet the family on Thursday from 3 p.m. to 7 p.m. at the Larson Funeral Home, 2496 North Avenue, Bridgeport. Entombment will be private in St. Monica Mausoleum in the Gate of Heaven Cemetery in Trumbull.
In lieu of flowers donations may be made to either St. Jude Children Hospital, PO Box 50, Memphis, TN or Anthonian Association of the friends of St. Anthony of Padua, 6107 N. Kenmore Ave., STE 5, Chicago, IL 60660. To light a candle or leave a condolence online go to www.larsonfh.com/.