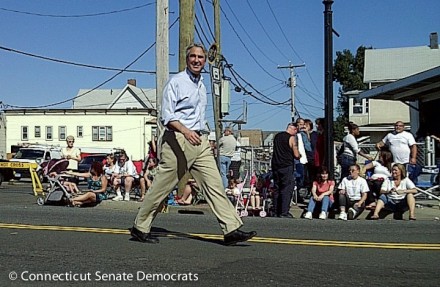 Anthony Musto's hypocrisy is so thick you'd need a blowtorch to vaporize it. The former state senator who killed a government reform bill on behalf of Bridgeport's Democratic political establishment prohibiting city employees from serving on the City Council to prevent conflicts of interests is now sanctimoniously speaking out about a Trumbull ethics issue as Trumbull Democrats encourage Musto to challenge Republican First Selectman Tim Herbst.

Musto was defeated last August in a Democratic primary by Marilyn Moore with his opposition to the state government reform bill a central issue of Moore's campaign in the city-suburban district. Now that Musto's considering a challenge of Herbst, he's trying to reinvent history about doing the right thing.
Let's examine Musto's record in the State Senate: voted for the largest tax increase in state history, one of only two state senators voting to release the images of the slaughtered Sandy Hook kids and killed a government reform bill to enforce Bridgeport's City Charter preventing conflicts of interests. Musto was not bashful at all in his assertion protecting Bridgeport's political establishment.
Interestingly, state law prohibits municipal employees (in Trumbull) from sitting on boards of finance to eliminate conflicts of interests such as voting on their own wages and benefits, but Musto would not vote for the same in Bridgeport. Now he's on his ethics high horse in Trumbull.
(Full disclosure: I was a Herbst political consultant.)
From Keila Torres Ocasio, CT Post:
Former Democratic state Sen. Anthony Musto said he also finds the switch troubling.

"You don't want the Ethics Commission to be seen in any way as a partisan board," he said. "It is an adjudicating body. To have a commission like that not looked at as completely independent is problematic."

Musto said the state's minority representation statute states that a person must be a member of a party for a period of three months after a change in affiliation to avoid these kinds of situations. He said he thought they should be avoided at the local level as well.
Full story here.