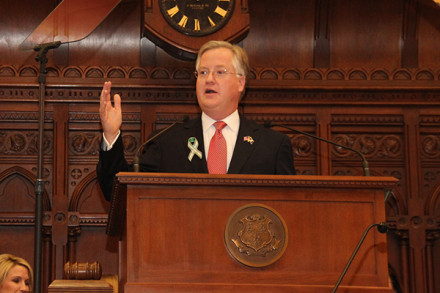 City officials are ramping up an effort to persuade Speaker of the House Brendan Sharkey and Governor Dan Malloy to support the delay of state-mandated property revaluation as the city seeks to regain financial traction and put off a potential spike in the city's mil rate leading to ear-splitting taxpayer screeching.

The city got a late start in the reval process after Sharkey rejected the city's request to delay it last year. The city is making one last stab in the upcoming legislative session that starts in February in a potentially messy budget cycle. Without a delay, reval must be implemented.
If Sharkey wants something to gain traction there's a pretty good chance it will happen. If the speaker says no it's usually sayonara.
City officials want to delay reval for several reasons including anticipation of tax revenue for development projects such as the Steel Point redevelopment area coming on line. Some of the higher-taxed neighborhoods such as Black Rock and North End could absorb the reval blow. Implementing reval could also juice motor vehicles taxes, scare away businesses fearing a higher mil rate as well as put some fragile businesses over the edge. The city's current mil rate is 41.855, among the highest in the state.
Connecticut law requires all real estate to be revalued for assessment purposes every five years to bring about uniformity in property values and ensuring everyone pays their fair share, or so it goes. Your property tax bill is a function of your assessment based on 70 percent of value. In this economy property values have sunk so as a general rule the mil rate approved by the City Council will spike to make up for the reduced assessments in order to fund the budget proposed by Mayor Bill Finch. A lot of this depends on the spending plan the mayor submits.
Opponents to delaying reval, including the Connecticut Business & Industry Association, claim it's poor public policy to put it off. The more frequently reval takes place, the organization maintains, the more accurate and fair tax assessments will be. Opponents also say delaying reval is nothing more than kicking the can down the road in an attempt to hide budget problems.
The mayor will submit his proposed budget to the City Council the first week of April.
Other municipalities' recent requests for a delay in reval have been rejected by Sharkey and Malloy so it appears Bridgeport officials must make a case Bridgeport is in a special financial pickle. There is some political risk for Malloy if he inserts himself into the reval equation during an election year, depending on how this shakes out.
Maybe it's better for Malloy to say "Convince Sharkey!"
Andrew Doba, Malloy's communications director tells OIB, "Conversations are preliminary at this point. We look forward to working with the Mayor and the delegation during the coming session."