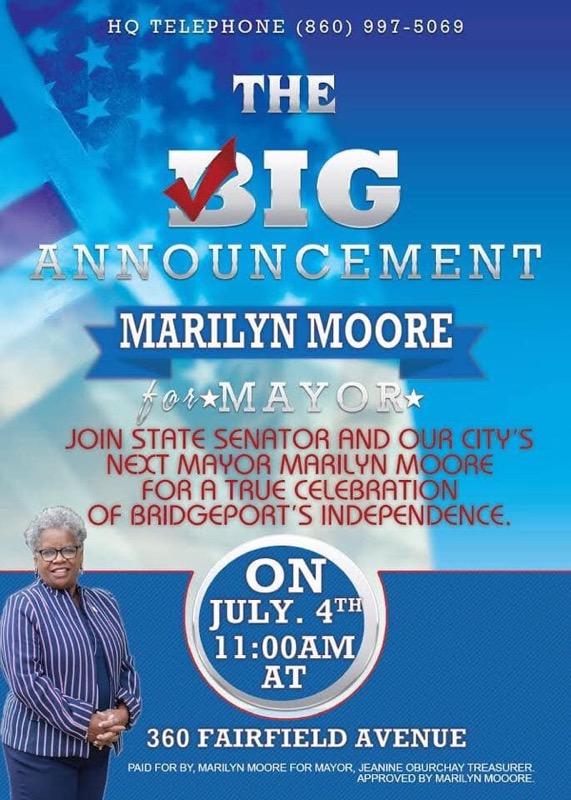 On July 4th, three weeks from presumably hustling signatures to qualify for a September Democratic primary, mayoral candidate State Senator Marilyn Moore plans a "big announcement" at her Downtown headquarters.
On July 23rd the Democratic Town Committee will endorse candidates for mayor, Board of Education, sheriff slots, city clerk, town clerk and City Council. Mayor Joe Ganim has the endorsement locked up. The next day challengers start a two-week window to petition onto the September 10 primary ballot.
Will Moore announce her bottle-rocket primary intentions on the 4th? She has not specified if primary, straight to general election or a strategy for both.
News release from Moore:
State Senator Marilyn Moore (D-Bridgeport, Trumbull, Monroe), has decided to set-off her own fireworks this Fourth of July by announcing her decision on whether or not she'll be appearing on more than just the general election ballot in this year's Mayoral race. With the September 10, 2019, primary growing steadily closer by the day, Moore has intrigued pundits by keeping the discussion on entering the primary open and ongoing since announcing her bid for Mayor this past January. Moore will make her announcement on Thursday, July 4, at 11:00 AM, in the parking lot of the Marilyn for Mayor campaign headquarters, 360 Fairfield Avenue in Bridgeport.

"Bridgeport deserves its independence. Our city deserves to be independent of backroom deals and back pocket governance. I represent the families who have seen the doors of City Hall slammed in their faces. Families who have called for help, only to be hurt. Families who have made the largest investments in their lives in Bridgeport, only to watch the City take them away," said Moore. "So on this Independence Day, I will be standing in solidarity with the people of Bridgeport. I will be standing with people, who like me, have fought hard their entire lives to see a Bridgeport where every citizen is valued and where leading the city is an honored duty and not just a cushy job. I've been called 'independent' for my views and my actions, but I am confident that there are more people in Bridgeport who feel like I do, than not. This election is about them. It's about us, as one Bridgeport."

Now serving her third term in the State Senate, Moore has frequently been cited as "independent" since winning office in a 2014 primary. A Democrat, Moore has championed numerous pieces of legislation such as the recent $15 minimum wage increase and Paid Family and Medical Leave, while simultaneously serving as founder and Executive Director of the local women's health non-profit organization, The Witness Project.