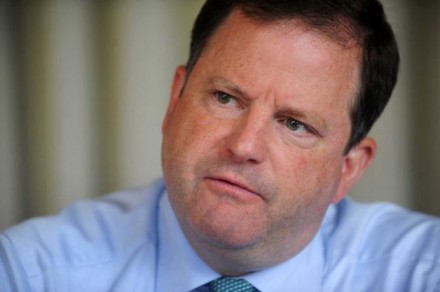 Republican candidate for governor John McKinney told the respective editorial boards of Hearst Connecticut Newspapers on Monday he would end the Common Core federal education standards advanced by Governor Malloy that has caused angst among school teachers. He also said the future of the state depends on the economic vitality of the state's largest city. Ken Dixon has details:
During a wide-ranging, 100-minute interview with editorial page editors of The News-Times, the Connecticut Post, The Advocate of Stamford and Greenwich Time, McKinney said Connecticut's economic future depends on turning around Bridgeport, the state's largest city, on which he promised to focus if he becomes the next governor.
Big tax breaks are a sensible way to attract companies back to the city, said McKinney, who is campaigning for the Republican gubernatorial nomination in the Aug. 12 primary against Tom Foley of Greenwich.

McKinney said that while Bass Pro Shops will provide Bridgeport with some new economic activity near the long-neglected harbor, the creation of tax-free enterprise zones would allow developers to focus resources on cleaning up contaminated land called brownfields.

"I think, as governor, that we have to bring a renewed sense of reviving this city," said McKinney, a 16-year veteran of the Senate and the GOP leader for the last six years. "I think being realistic, most people will go to the Bass Pro Shops, do their shopping–they may buy an elk burger when they're there–then they get back in their car and go back where they came from. The tax revenue generated there is helpful, but that's not economic revitalization. There just needs to be a renewed focus."
Full story here.