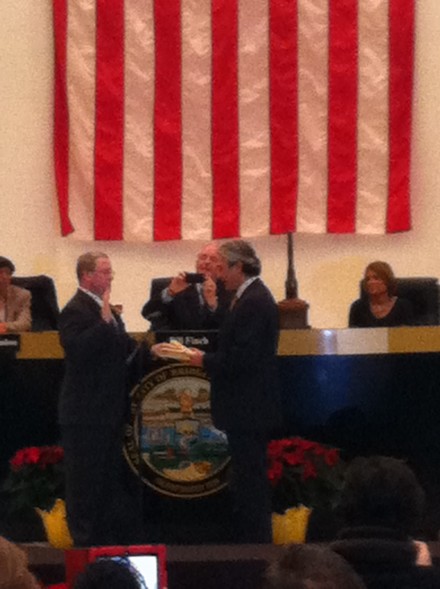 UPDATE: McCarthy wins another term as Council President. City politicians often leverage the oath of office to showcase old and new alliances. The 20-member legislative and budget authority as well as newly elected school board and city sheriffs were sworn in on Sunday. The new City Council assembled for its first meeting Monday night and elected Tom McCarthy for another term as council president. McCarthy received 15 votes for council president while newcomers to the council Rick Torres and Bob Halstead received two each.


On Sunday McCarthy received the oath of office from State Senator Anthony Musto who was instrumental in killing a bill in the last state legislative session that would have enforced the City Charter prohibiting city employees from serving on the council. A loophole in state law allows it. The bill proposed by Bridgeport State House Democrats Jack Hennessy and Auden Grogins received bipartisan support, but was stymied by Speaker of the House Brendan Sharkey because it did not have the backing of Musto and State Senator Andres Ayala, both of whom represent Bridgeport.
Supporters of the bill maintain it would prevent conflicts of interests such as city employee council members approving their own wages and benefits and allow for a stronger legislative check on the executive branch. McCarthy serves at the pleasure of Mayor Bill Finch as deputy director of Labor Relations.
Musto and Ayala worked against the bill for fear of alienating political support on the council, including McCarthy. As council president, McCarthy appoints members to committee assignments. He maintains he has no conflict serving as a city employee council president, although he has refrained from appointing a city employee as chair of the key Budget and Appropriations Committee to avoid conflicts.
Musto, a Democrat, is up for reelection in 2014. He represents portions of Bridgeport and Monroe and all of Trumbull.
City Council:
130 District, Rick Torres, Sue Brannelly
131 District, Denese Taylor-Moye, Jack Banta
132 District, Bob Halstead, Trish Swain
133 District, Tom McCarthy, Howard Austin
134 District, Michelle Lyons, AmyMarie Vizzo-Paniccia
135 District, Mary McBride-Lee, Richard Salter
136 District, Richard DeJesus, Alfredo Castillo
137 District, Lydia Martinez, Milta Feliciano
138 District, Mike Marella, Richard Paoletto
139 District, James Holloway, Eneida Martinez-Walker