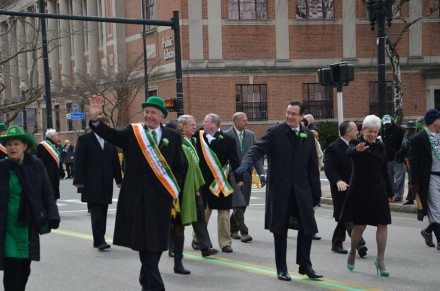 Critics of Governor Dan Malloy call the failed two-year recruitment of the world's largest hedge fund Bridgewater Associates a boondoggle costing taxpayers $16 million that could have been invested in the state's largest city. But it also highlights a growing organizational problem Malloy faces in Bridgeport in the gut of his reelection including frayed relations with Bridgeport's Democratic leadership that believes Malloy should be doing more.

Bridgewater pulled out of a $115 million incentive package to move its headquarters from Westport to Stamford. Critics argue poaching a business from wealthy Westport to a thriving Stamford doesn't do the state a lot of good unless it entices a move to one of the state's distressed cities. Of course, there's also the argument Stamford is an easier sell than Bridgeport.
In a comment to the Connecticut Post, former Mayor John Fabrizi says, "The state has invested billions of dollars in Stamford and nowhere close to that in Bridgeport, and it is frustrating. I understand how these deals work. … However the state of Connecticut has to be cognizant of places like Bridgeport."
Malloy's people will say they are cognizant of Bridgeport which is why the governor ponied up an incentive package of roughly $30 million to entice Bass Pro Shops, the mega outdoor retailer, to serve as the anchor tenant in the revitalization of the Steel Point redevelopment area on the East Side.
But many Bridgeport political operatives maintain Malloy has no specific agenda for turning around the development fortunes of the state's largest city that delivered a major plurality four years ago when he won a tight election over Republican Tom Foley.
"Malloy has his work cut out for him," says Ernie Newton campaigning to reclaim the State House seat he occupied for more than a decade. "We need inner-city jobs for inner-city people. It's going to be a tough election. There's no excitement. And we worked very hard to get him into office. A lot of minorities are upset. I'm out there every day knocking on doors. This is what blacks, whites and Hispanics say. When are we gonna get our shot like Stamford?"
Mayor Bill Finch is saying all the right things publicly about Malloy, but in private Finch political operatives maintain the governor isn't doing nearly enough in Bridgeport considering what the city means to his reelection. They too say there's no enthusiasm for Malloy's reelection.
Malloy has never had a warm and fuzzy relationship with city political leadership that goes back to his days as mayor of Stamford. It continued in 2010 when Finch and Democratic Town Chair Mario Testa both supported Ned Lamont over Malloy in a Democratic primary. Malloy won the primary handily statewide and ran nearly even in Bridgeport. Peace was made for the general election. Barack Obama showed up in Bridgeport three days before the November election that juiced turnout. Speculation is Obama will return to push Congressman Jim Himes and Malloy. Do they even want him here? The latest Q Poll reports national voters view Obama as the worst president since World War II.
Finch's people wonder if an Obama visit to Bridgeport will be enough to inspire voters this time around without more brick and mortar projects to promote. If Malloy has a campaign plan for Bridgeport, they say, they've not been included.