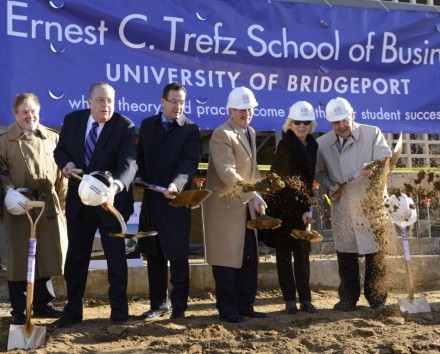 Governor Dan Malloy on Wednesday joined University of Bridgeport officials at the groundbreaking for the Ernest Trefz School of Business in honor of the UB supporter and trustee. Mayor Bill Finch, continuing his boycott of UB because of his opposition to an arm of the Unification Church that rescued the university financially more than 20 years ago, did not attend. Finch, an employee of the university decades ago, will not attend UB events irrespective of the university's turnaround, economic impact on the city and respected public officials and dignitaries who support the South End campus. Trefz is the owner of the Bridgeport Holiday Inn Downtown. In lieu of the mayor's presence, Chief of Staff Adam Wood presented Trefz a city proclamation.

News release from UB:
Calling it "another important step forward for the University," Governor Dannel P. Malloy joined University of Bridgeport (UB) Trustee Ernest Trefz and campus officials today in breaking ground on the newly renamed Trefz School of Business.

Mr. Trefz has been a trustee of the University since 1980 and a constant presence as an advisor, philanthropist, and supporter. His gift is a tribute to his parents and family who gave him the skills he needed to become an entrepreneur and business leader, he said.
"This groundbreaking is a celebration of Ernie's long-time philanthropy and another important step forward for the University of Bridgeport as an institution of higher learning," said Governor Dannel P. Malloy. "We are also here to celebrate a project that represents a major investment in our future workforce and, upon completion, a project that will facilitate an even stronger partnership between the university and Connecticut's business community."

Gov. Malloy was joined by UB President Neil A. Salonen, UB Trustee Frank Zullo, School of Business Dean Lloyd Gibson, and Mr. Trefz, who all delivered remarks at the school, 230 Park Avenue.

"This naming gift from Trustee Trefz will transform the School of Business, and in particular, strengthen its focus on Entrepreneurship," President Salonen said. "We are grateful to Ernie's generosity and steadfast loyalty to UB."

Trefz said, "I am honored and, honestly, humbled that UB's business school will carry my name. I would never have imagined all those years ago that one day I would be in a position to be of help to future generations of aspiring business people and entrepreneurs. I come from a family of immigrants who taught me the value of hard work and persistence. I understand how important education is and I hope my efforts at UB will help others, like me all those years ago, achieve their dreams."

The University is in the midst of a multi-year, multi-million dollar capital campaign to enhance its main Bridgeport campus. Since 2007, it has raised nearly $50 million from bonds, grants, and private donors to complete dozens of projects.