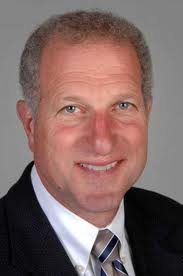 Shelton Mayor Mark Lauretti has a nice story to tell if he decides to jump into a growing field of Republicans seeking to unseat Democratic Congressman Jim Himes. Twenty years of grand list growth, low tax rate and an abundance of jobs is something to sell to voters in Connecticut's 4th Congressional District. Weak point? He loathes investing more than the bare minimum to finance Shelton's education system. "Cut that school budget," he fondly tells his chief executive peers balancing town spending with education funds. Lauretti, of course, will argue filleting the school budget is a conservative strength.

It appears Lauretti has survived intense scrutiny by federal investigators in a years-long probe of Shelton development. The investigation derailed his run for governor in 2010.
Although not well known along the Republican-rich Fairfield County gold coast, Lauretti would enter the race with a higher profile among the current GOP candidates, Chris Meek, David Orner and Steve Obsitnik. But they have a sizable head start raising money. And money would be an intriguing factor if Lauretti jumps in. He has no experience raising large sums of money. As a popular incumbent mayor he has raised very little through the years. Give the guy credit for not creating cash cows when just a little political mother's milk is required, but Lauretti has never tapped into raising money from one of the largest corporate-rich grand lists in the state in 20 years as mayor. He has no fundraising infrastructure.
Lauretti is also not a man of wealth. He just can't say okay here's a million of my own dough, I'm suited up and ready to go. If he's going to make a serious run at Himes' congressional seat Lauretti must raise at least $2 million to compete. Can he?