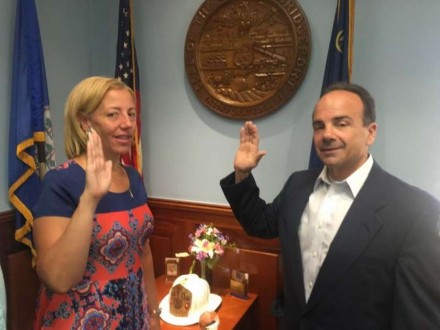 Republican Town Chair Mike Garrett is searching for candidates to run for Board of Education seats currently held by Joe Larcheveque, the chair, and Annette Segarra-Negron, both of whom are not seeking reelection in November, according to Garrett.

The seats of Democrats Howard Gardner and Rafael Fonseca, as well as Sauda Baraka, elected on the Working Families Party line in 2009 and 2013, are also up this year. Gardner and Baraka don't sound like reelection candidates. Fonseca is running.
Another wrinkle could be added on the GOP side involving John Weldon who was appointed to the Board of Education by Mayor Joe Ganim to fill the vacancy of Republican Kevin McSpirit last November after the school board failed to fill the position within 30 days. McSpirit was elected to a four-year term in 2015.
The City Attorney's Office cited this statute:
Sec. 7-107. Vacancy appointments by selectmen. Except as otherwise provided by law, if any vacancy occurs on any town board or commission, and such board or commission has power by law to fill such vacancy but fails to do so within thirty days after it occurs, the board of selectmen or chief executive authority of such town may appoint a qualified person to fill such vacancy until the next municipal election.
Based on the statute, this cycle is "the next municipal election." OIB has asked the City's Attorney's Office for a clarification on this question. Does the passage, "except as otherwise provided by law" default to the City Charter?
Prior to appointing Weldon, Ganim also appointed Fonseca and Segarra-Negron after the board failed to act due to infighting.
School board member Maria Pereira, represented by attorney Kevin Smith, claimed Ganim violated the City Charter and had no legal grounds to cite state statute to fill vacancies. Associate City Attorney Bruce Levin argued before the court that the plaintiff's position is "absurd" asserting the board has been operating under "deadlock and dysfunction."
Levin said state law addresses the logjam of filling vacancies and Superior Court Judge Barbara Bellis agreed with him ruling last October that Ganim "properly exercised his authority" to fill vacancies after the board failed to act within 30 days.
So, the question remains, are five school board seats up this November or six based on the Weldon mayoral appointment? Historically, school board elections are staggered, five seats one cycle, four the next.
The nine-member school board operates under state-mandated minority party representation which sets aside three seats outside of the major party. The current configuration is five Democrats, three Republicans and one Working Families.
Party endorsements will take place later this month with expected September Democratic primaries for school board, City Council and city sheriff positions.