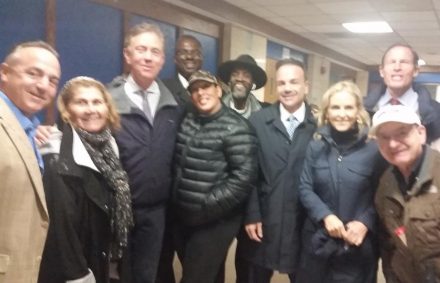 On Election Day 2018, candidate Ned Lamont returned to the building that housed the former Harding High School where he had served as a volunteer instructor more than a decade prior. He greeted Bridgeport Democratic political supporters with his genial wife Annie, highlighting a declaration: I'll not forget the people who helped elect me governor.
Bridgeport voters delivered Lamont an 18,000-vote plurality over Republican Bob Stefanowski in a tight race, the Democrat buoyed by Connecticut's cities.
Lamont spent 2019 adjusting to the job, building a budget and navigating the state legislature. With 2020 serving as a Covid outlier that shut in millions of residents in one way or another Lamont spent most of the year addressing the health emergency.
This year has been a far different story for Lamont and Bridgeport. In six months the governor has made roughly 12 visits to Bridgeport at stops advancing waterfront development, construction, new technology and job creation for the state's largest city.
Examples: in April he joined officials along the city's East End waterfront to announce Hornblower Group, the world's leading provider of water-based experiences with facilities in San Francisco, Chicago, New York and London, centralizing its location in Bridgeport in a partnership with Bridgeport Boatworks where its large fleet of vessels will be maintained and upgraded along the harbor. When was the last time a New York company moved part of its operation to Bridgeport?
In May Lamont announced the completion of Goodwin University's acquisition of the University of Bridgeport that received approval from the U.S. Department of Education, the Connecticut Office of Higher Education, and institutional and programmatic accreditors, including the New England Commission of Higher Education.
Also in May, at the urging of East End City Councilman Ernie Newton Lamont visited the city to appear in the neighborhood, following a spike in gun violence. Lamont offered extra resources to combat the ferocity.
In June, he visited the boat show at the Steelpointe Harbor redevelopment area, another waterfront reclamation, that included a visit to the $68 million, 200-foot superyacht "Lady Kathryn," recognized as one of the most beautiful charter yachts in the world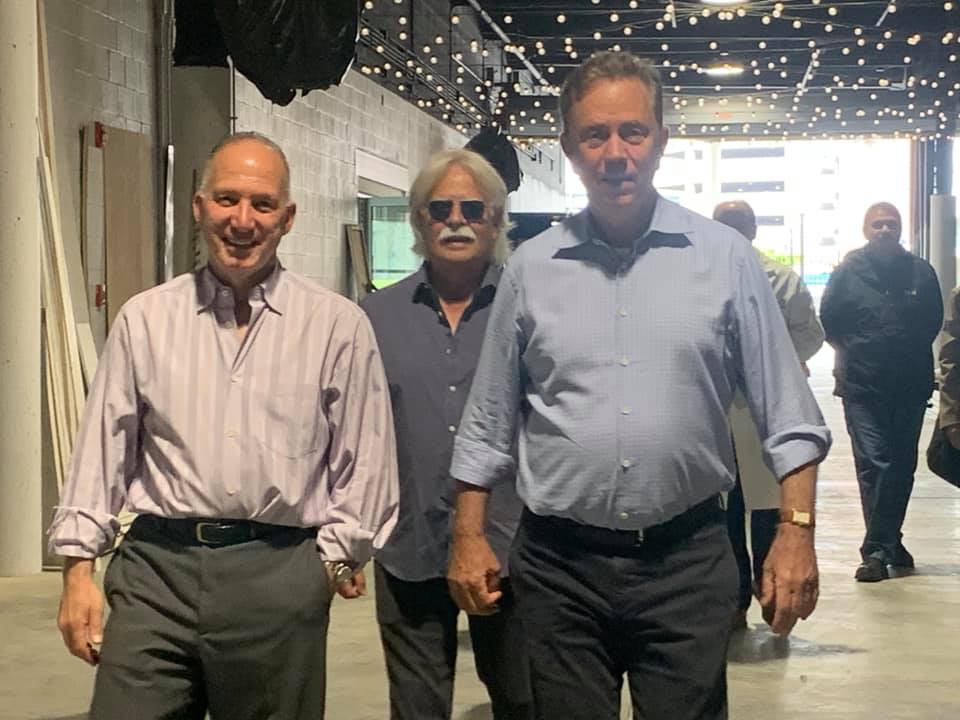 Also in June, Lamont and Lieutenant Governor Susan Bysiewicz visited The Hartford Healthcare amphitheater to announce the launch of the State of Connecticut's "Rock the Shot" promotional campaign to encourage Connecticut residents to get vaccinated against COVID-19 by giving away pairs of tickets to concerts happening throughout the summer and fall in the state.
In July, Lamont trumpeted the Bridgeport headquarters opening of Park City Wind, an offshore wind project his development officials selected to serve as an East End staging area for parent Vineyard Wind. The project was selected by Lamont's Connecticut Department of Energy and Environmental Protection to provide 804 MW of energy to the state .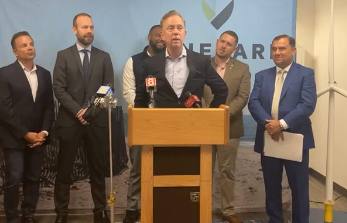 A few days later, Lamont and Mayor Joe Ganim visited developers Gary Flocco and Geof Ravenstine to launch the next phase of the Cherry Street Lofts, a mixed-use West End revitalization that has built out so far more than 150 units of housing and opening of Great Oaks Charter School.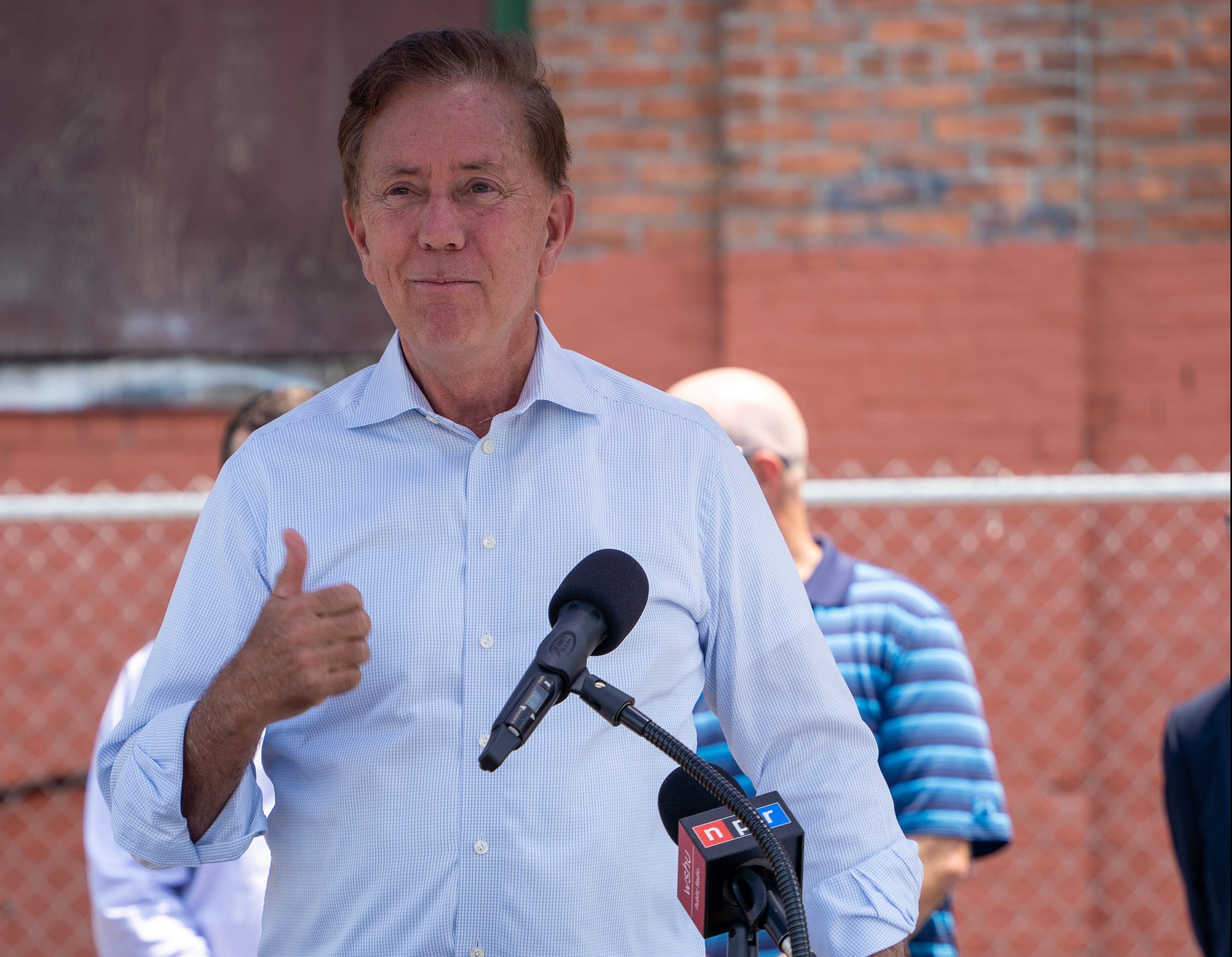 The governor's next stop that day was Connecticut's Beardsley Zoo where he encouraged families to participate in the state's Connecticut Summer at the Museum program. Created in the wake of the COVID-19 pandemic, the program permits all Connecticut children age 18 and under, plus one accompanying adult, to receive free admission at more than 90 museums throughout the state.
Other initiatives Lamont has backed for Bridgeport, approving a $7 million grant to finance upgrades at Sikorsky Memorial Airport including runway rehabilitation, drainage repairs, removal of excess pavement, and environmental review and preliminary design of the west development area all essential services if the city's going to resume commercial flights.
At the prodding of key members of Bridgeport's legislative delegation, Lamont backed revising the formula to reimburse Bridgeport for tax-exempt properties such as state buildings, hospitals and colleges, a $10 million-plus cash infusion the city has not experienced in decades.
Not since the years of Lowell Weicker in the early 1990s has a governor succored the city.
Weicker leveraged his will to return gigantic things for Bridgeport.
The three-term Republican U.S. senator, who lost a 1988 general election to Democrat Joe Lieberman, reemerged as an independent candidate for governor two years later. He won.
In June 1991 Republican Mayor Mary Moran placed the city into federal bankruptcy court arguing Connecticut's largest city needed a fresh start from decades of deficit spending, union contracts and a tanking grand list of taxable property.
Weicker, backed by then Attorney General Richard Blumenthal, declared Bridgeport was a child of the state, as a result, a bankruptcy petition damaged the credit worthiness of Connecticut. A federal judge sided with the state.
In November 1991, 32-year-old Joe Ganim defeated Moran in the general election. The morning after election, a groggy Ganim met with Weicker who boomed … kid, help me and I'll help you … Withdraw the bankruptcy petition (under appeal) and I'll help you revitalize your budget.
Weicker was so true to his word. He built a new Housatonic Community College, languishing on the East Side, on a Downtown location that now is one of the highest trafficked two-year programs in the state with roughly 6,000 students.
He relocated Troop G State Police Barracks From Westport to Downtown Bridgeport across from Housatonic at a time the city experienced record-breaking crime rates fueled by drug wars. Other initiatives:
— $5 million from the state to purchase Beardsley Park
— $5 million from the state to purchase the state's only zoo
— $500,000 to remove the stinking East End demolition debris known as Mount Trashmore
— $10 million from gaming revenues with tribal nations
— Millions more in incentive packages to keep companies in the city during a massive New England recession
— Weicker opened a Bridgeport governor's office and forced his commissioners to meet there at least once a month.
For young Joe Ganim it was manna from heaven and helped stabilize the city's budget for a decade.
A bronze statue of Weicker should tower along the waterfront for rescuing the city from cratering into Long Island Sound.
The governors who followed, Republicans John Rowland, Jodi Rell and Democrat Dan Malloy, had moments when it came to Bridgeport, but nothing like Weicker and nothing Lamont so far, even after Ganim ran a peculiar gubernatorial primary against him in 2018.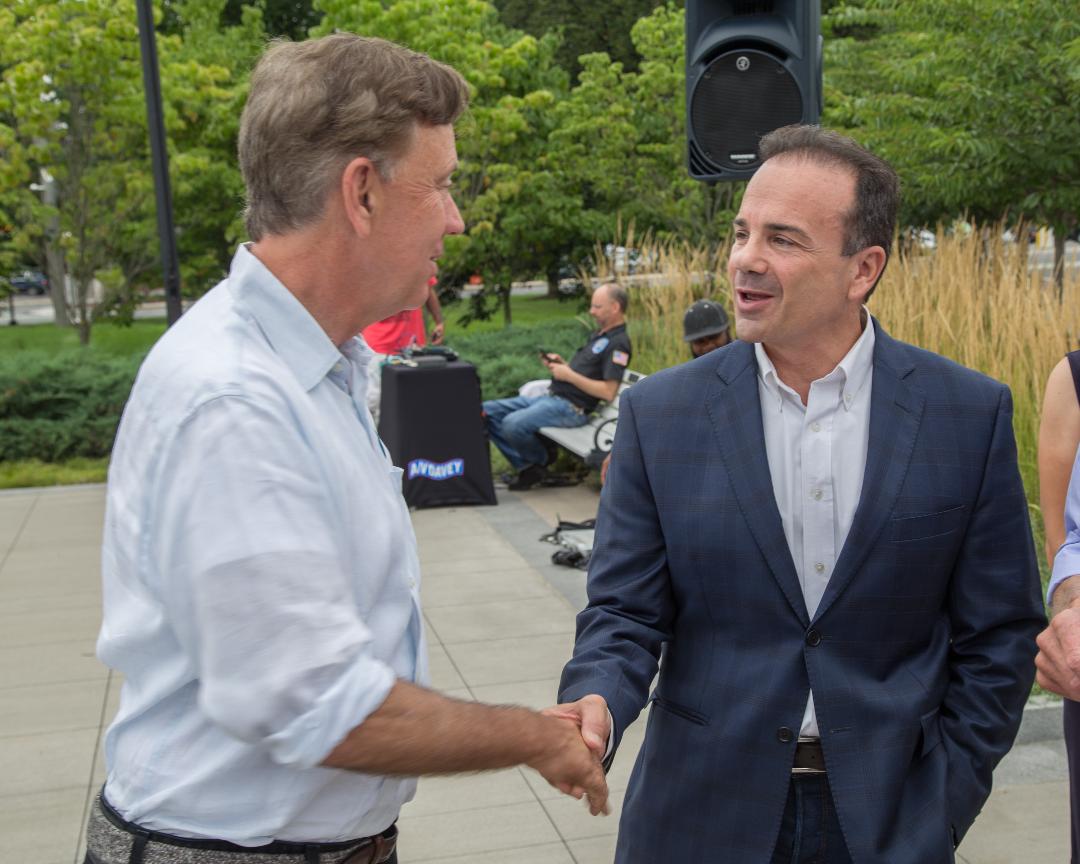 Joe knows how to suck up when needed and he's saying all the right things about Lamont now.
Clearly Lamont does not keep score as Malloy did after a portion of the city's political establishment backed Lamont over Malloy in a primary for governor in 2010.
Not all is diamonds, roses and champagne for Lamont. Education advocates meow Lamont leveraging federal Covid relief to help finance state education. When happens when the money runs out?
Still, speaking of keeping score, Lamont's Bridgeport grade is pretty damn tasty, the best since Weicker.