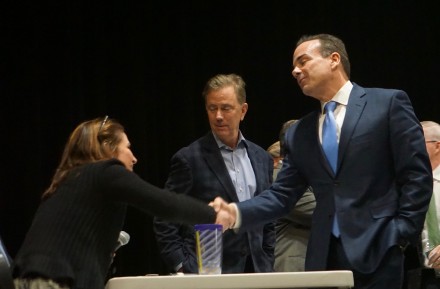 The Democratic convention is over; Ned Lamont is the endorsed candidate for governor. Now what? Mayor Joe Ganim's petition drive continues in his quest to wage an August primary. Meanwhile, at some point soon the candidates should engage in a discussion, be it substantial or superficial, about avoiding a primary. It won't be much of a conversation, to Ganim's way of thinking, unless Lamont presents specifics on what he'd do for the state's largest city Lamont will need in November against the Republican, be it Danbury Mayor Mark Boughton, former Trumbull First Selectman Tim Herbst or entrepreneur Steve Obsitnik, all of whom have qualified for an August primary.

Lamont reached out to Ganim on the eve of Saturday's convention vote. Ganim said the time to have the discussion is after the convention.
What can Lamont offer? How he presents it is just as important as what. If it's one of those "I'll do great things for Bridgeport" without specificity, Ganim's gonna say, what else you got? Ganim will likely weigh what Lamont has to say until he knows his ballot status. The deadline to submit petitions is June 12. He'll need more than 15,000 verified signatures from Democratic voters. Ganim operatives have fanned our across Bridgeport, New Haven, Hartford, Waterbury, New Britain and West Haven for the task. Signatures are submitted to the local registrar offices for review. Certification will come from the Office of the Connecticut Secretary of State. That is about one month away.
So what could Lamont offer Ganim? A commitment to support a competitive process for a Bridgeport casino, fully fund payments in lieu of taxes for a heavily tax-exempt city, money for major infrastructure improvements such as a new Congress Street bridge, additional education dollars for a school district facing deep cuts. How about reopening a governor's office in Downtown Bridgeport? That was something Dan Malloy eliminated, in a kick in the teeth to the city, after taking office January 2011. Then-Governor Lowell Weicker opened a Bridgeport office in the early 1990s as a show of commitment.
Ganim may feel he's in a better negotiating position if he's qualified for the ballot. The Lamont people would like to avoid a primary, but if it comes they'll place a positive spin on it as being good to raise Lamont's profile on the issues.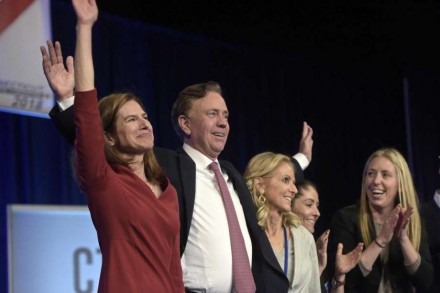 Lamont told Hearst Media, "I think we stick to the issues and not let it get mired into personalities–because sometimes if primaries get dragged down into the mosh pit, that is no help for anybody. I will focus like a laser on November, in reminding people how important it is that we elect a Democrat, a Democrat who represents real change."
Does Ganim have a puncher's chance?
This process poses risks for both Lamont and Ganim.
The wealthy Lamont is self-funding his race to the tune of millions while Ganim will be outspent heavily, raising money via large-dollar donations because his 2003 felony conviction precludes him from accessing $1.2 million in public dough for qualified primary candidates for governor. So Ganim's spend-down in the final months of the primary will be dramatically less than Lamont. Strategically Lamont wants to avoid Ganim's past, or allow surrogates to handle that. If it gets dirty it will be much harder to patch things up with Ganim for a general election. It's also risky for the likable Lamont to attack Ganim, as well for urban voters who embrace a second-chance message.
The attack plan by Mayor Bill Finch in 2015 against Ganim backfired. Instead of ignoring Ganim and running on his record, the Finch political operation bashed him from day one. Many urban voters asked why is Bill Finch afraid of Joe Ganim? Coupled with Ganim's retail skills, Finch's strategy turned him into a trivia footnote: the only mayor in Bridgeport history to lose in a primary.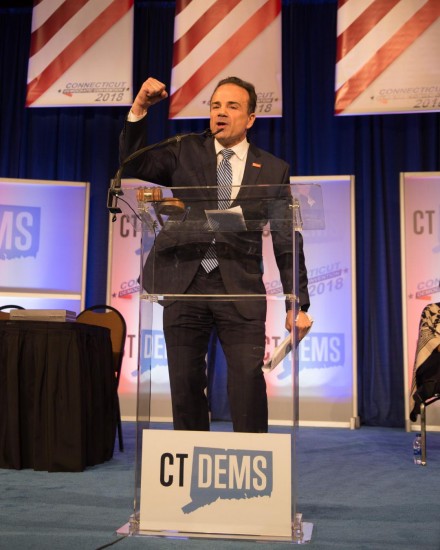 Wouldn't Lamont attacking Ganim's past play well with a suburban-rural audience? Why do that when they'd likely be Lamont voters anyway at the risk of alienating urban voters he'll need in the general election? Unless something kooky happens, the Republican in the general election will be a formidable foe, given the Connecticut electorate's distaste for the direction of the state, that requires all hands on deck in urban areas for the Democrat.
Ganim's the more skilled retail politician. Lamont doesn't want to hand Ganim a wedge issue he could bring to urban voters. Realistically the only way Lamont reminds Democratic voters of Ganim's past if his operatives feel Ganim has some campaign traction. Otherwise let it go.
There are risks for Ganim too that could bleed into his mayoral reelection. Most of the established campaign operatives–unions, teachers, progressives, state public employees, town committee members–are supporting Lamont. Combine that with Lamont's heavy spending against Ganim's marginalized pocketbook and it's a potential recipe for ballot embarrassment. In addition, what if Lamont wins the general election? Will he remember Ganim ran a pain-in-the-ass primary against him?
It could buoy a stronger candidate against Ganim next year, including State Senator Marilyn Moore who's being urged by local activists to challenge Ganim.
So every one asks, what's the end game for Ganim? Depends on his conversations with Lamont.