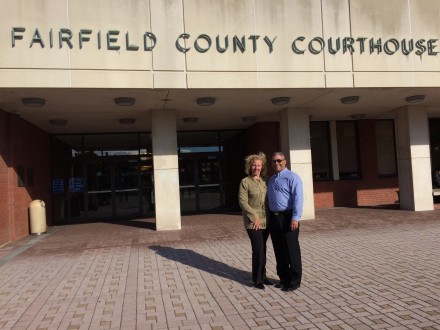 Superior Court Judge Barbara Bellis on Monday ruled in favor of the defendants upholding Mayor Joe Ganim's authority to fill Board of Education vacancies. The two school board members in question Annette Segarra-Negron and Rafael Fonseca, represented by the mayor's brother attorney Paul Ganim who also is the city's judge of probate, were sitting in the front row as Bellis issued her afternoon decision from the bench after hearing legal arguments. Mayor Ganim may very well have another vacancy to fill with the recent resignation of Republican Kevin McSpirit.

"It is unfortunate that this issue had to go to court," said Mayor Ganim in a statement. "I am very thankful to Judge Bellis for taking such a thorough look at the issues and supporting the legality of the appointments I made to the board of education. I do not want to be in the position of appointing members to the board, but given the reality that there was simply no consensus to choose replacements for members who resigned, I was compelled to act. It is clearly in the best interests of the 22,000 students in our district and their families that we have a full board that can make critical decisions regarding the future of our schools. Nothing is more important for the future of our city. My hope is now that the board can come together and move a positive agenda forward for the good of our schools, teachers, and most importantly for our students."
The short term impact of this decision derails a four-person school board coalition's push for special meetings due to a lack of quorum in light of Chair Dennis Bradley and three other members boycotting regularly scheduled meetings in opposition to board member Maria Pereira who brought the lawsuit asking the court to vacate Ganim's authority to fill vacancies if the board fails to act within 30 days. Pereira had hoped the judge sided with her position, invalidating Ganim's appointments that would have created a four-person quorum. As it stands the board has eight members with one vacancy requiring a quorum of five.
Pereira, represented by attorney Kevin Smith, claimed Ganim violated the City Charter and had no legal grounds to cite state statute to fill vacancies. Associate City Attorney Bruce Levin argued before the court that the plaintiff's position is "absurd" asserting the board has been operating under "deadlock and dysfunction."
Levin said state law addresses the logjam of filling vacancies and Judge Bellis agreed with him ruling Ganim "properly exercised his authority" to fill vacancies after the board failed to act within 30 days.
"I am thankful to Judge Bellis for her thoughtful review of the law in this case," said City Attorney R. Christopher Meyer in a statement. "We were confident of our legal analysis and I am appreciative of Associate City Attorney (Bruce) Levin who did an outstanding job representing the City of Bridgeport. This ruling clears the way for the BOE to be able to accomplish their very important work for the benefit of the students."
Pereira's two-fold complaint also questioned Ganim's appointment of Segarra-Negron to fill the vacancy of Dave Hennessey who was elected in 2013 as a Democrat but switched his affiliation and resigned this year as a Republican. Pereira argued that because Hennessey was elected as a Democrat his replacement must be of that party. The judge ruled in favor of the defendants.
Bellis issued a bench decision but announced she will submit a formal written ruling in a few days.