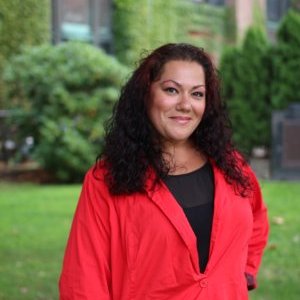 When it comes to issues, Board of Education member Maria Pereira and school board candidate Jessica Martinez are pure passion. They've occasionally dueled in the comments section of OIB. It can be personal and even litigious.

Calling their differences a political dispute, Superior Court Judge Richard Arnold on Wednesday dismissed Martinez's request for a civil protective order against Pereira.
In an application, according to a story by CT Post reporter Dan Tepfer, Martinez claimed Pereira "has been threatening, harassing and a terror to the entire community. I know it's because I am an endorsed Democrat for the Board of Education and the election is November 7. She is threatened by my leadership and continues to harass when I do nothing to her."
Pereira, who said she was unaware of Martinez's application, declared "Great job judge." Several months ago Pereira filed a police complaint against Martinez after receiving what Pereira termed harassing emails.
Pereira OIB statement on Martinez:
"What this stunt proves is that Jessica Martinez is impulsive, doesn't understand the statutes that govern harassment, stalking, etc. and lacks the intelligence of a third grader. As someone who has received repeated derogatory emails from Ms. Martinez, I can assure you she cannot spell, punctuate or capitalize. Both the BPD and a BPD detective contacted Ms. Martinez to direct her to stop emailing me or face arrest, and she continues to email me. This serves to demonstrate her complete lack of self control. Ms. Martinez supports charter schools, supported the illegal state takeover of our schools, was (former school chief) Paul Vallas' number one supporter, and supported taking our right to vote for our school board away. However, she is now asking voters to cast their vote for her. Please consider all these factors before voting on Tuesday, November 7th."
Pereira and Martinez, both Democrats, are high-octane personalities. Martinez supports more choices for students such as charter schools that run independently of traditional school districts but receive public funds. Pereira rails the opposite, charging that charters suck financial oxygen from local districts. Martinez is the lead complainant in a federal lawsuit challenging state restrictions on charter schools.
Martinez is among four endorsed candidates vying for three Democratic seats on the school board. Under state-mandated, minority-party representation up to six members of a major party may fill the nine school board seats. Pereira, Dennis Bradley and Ben Walker are incumbent Dems on the school board.
Republican, Working Families Party and one petitioning candidate will vie for the other three slots.
On the ballot in November will be a two-year school board seat to fill out the four-year term of Republican Kevin McSpirit. Mayor Joe Ganim appointed John Weldon to temporarily fill that void last November until the next general election. Democrat Sybil Allen, a former City Council member, and Republican James Carbone, a former board member, will vie to fill the position.
Hernan Illingworth, a former board member, Martinez and Chaila Robinson, will appear on the Democratic line for four-year terms. Republicans will run Joe Sokolovic, Weldon and Chris Taylor. Sokolovic, Shavonne Davis and school board incumbent Howard Gardner will appear on the Working Families Party line. Sokolovic has two lines. City minister Sarah Lewis is running as a petitioning candidate.