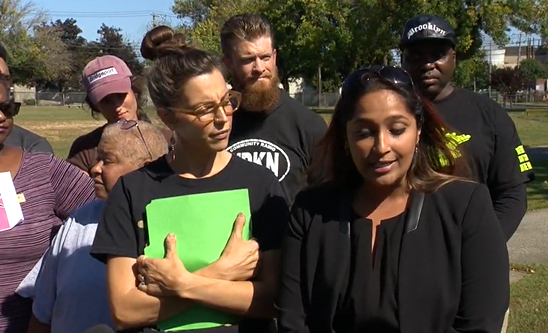 Superior Court Judge Barry Stevens on Thursday dismissed the lawsuit brought by supporters of Marilyn Moore that sought a new Democratic primary after she won on the machines but lost via absentee ballots to incumbent Joe Ganim. The judge ruled that while there were irregularities they were insufficient to change the outcome of the primary. Ganim won by 270 votes in the September 10 contest.
Stevens wrote in his decision "the totality of these issues advanced by the plaintiffs are not as broad and extensive as the plaintiffs claim and they fail to establish actual and serious, as compared to theoretical and and conjectural, mistakes in the count of the vote."
Judge Stevens ruling is a worthy read, see here.
This means Tuesday's general election will go forward with Ganim the Democratic nominee and Moore as a write-in candidate.
John Rodriguez is the Republican nominee while three others have filed the necessary paperwork to be counted as write-in candidates MaryAnn McLaine, Jeff Kohut and Ethan Book.
Judge Stevens ruled that much of the plaintiffs' case centered on absentee ballot applications and not absentee ballots themselves.
From Judge Stevens' decision: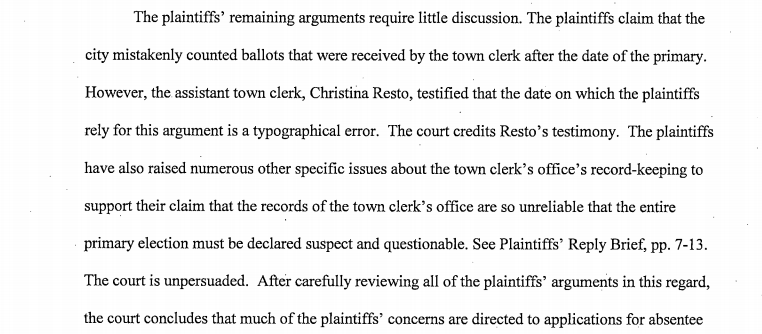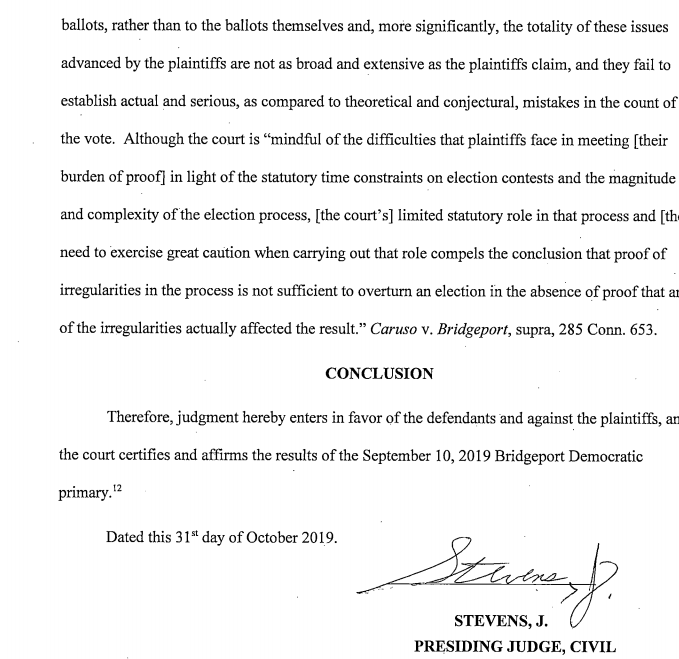 Advocates of the lawsuit put their own spin on the judge's decision.
Moore issued this statement:
"While I wasn't a party to the case, I am happy it exposed just how deeply corrupt the absentee ballot harvesting operation of the Democratic Town Committee runs. This is why our Write-In campaign is so important. We are laser focused in our efforts to get the vote out on Nov 5th to end the corruption and bring real change to the people of Bridgeport. I trust the decision of the Judge. I am grateful to Bridgeport Generation Now Votes for their vision and dedication to free and fair elections."
Niels Heilmann, also a leader in Generation Now, posted this observation in the OIB comments section:
The ruling itself had a lot of vindication in it. He essentially said the plaintiffs proved the defendants violated the law. Said there was proven and serious abuse in the AB process. In the end, he said the "heat of the evidence was not hot enough to meet the burden to overturn the entire primary." He then editorialized that the violations are so severe and disturbing that he suggests the legislature address the issue and suggested making it illegal for political operatives to be involved at all w ABs in any way.
It does raise a question, however, for Moore to answer: what has she done in her five years in the State Senate to address election reform?
Statement from Ganim:
"Today is a testament to the voting rights of the people in Bridgeport. After several weeks of effort by a partisan group to reject the Primary Election results and disenfranchise more than 10,000 Democratic voters who participated in that election, the judge presiding over this case has dismissed the lawsuit.

"I'd like to thank the Judge for his patience in hearing all of the facts. The result of his dismissal is a victory for our voters. It doesn't matter if you vote at the polls or by Absentee ballot if eligible, a vote is a vote. The election will go forward on November 5th.

The unfortunate result of this case has been to intimidate our most vulnerable residents and attempt to take away their right to vote. Many seniors, folks with disabilities, and others who are disenfranchised and regularly cast legitimate, legal absentee votes have become concerned about casting their ballot in November for fear of being accused of doing something wrong. We will do everything that we can as a campaign to make sure that every person who can and wants to participate in our Democracy has that opportunity."