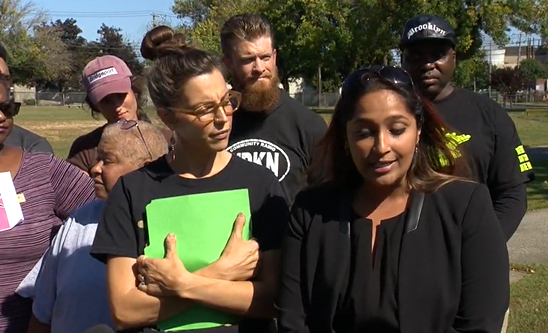 Retired Superior Court Judge Carmen Lopez asserts in a commentary "It is frightening to think that organizations like Generation Now can someday obtain real power," referencing the community group challenging the results of the September 10th Democratic primary playing out before Superior Court Judge Barry Stevens. The group's founders support Marilyn Moore for mayor.
Many years ago, a Puerto Rican activist (who shall remain nameless) told me to remember that "there is nothing more dangerous to those of us referred to as minorities, than a white liberal."

Truer words have not been spoken.

Like me, this activist grew up in Bridgeport and was raised in a Puerto Rican household. For those of you who don't know what that means, it means that we spoke Spanish, we ate Puerto Rican food, we read Spanish language newspapers and listened to Spanish language music.

When she described what she meant by white liberals, she did not mean the average white person working hard to make a living, raise a family, and make meaningful contributions to their community.

No, she was referring to those folks in our country, state and city, with the real political and economic power, position and privilege. Those commonly referred to as the "elite."

She was describing those folks who are born on third base and believe they "hit a triple." You know what I mean, and I am sure that you have met some of them, even though we live in a poor city like Bridgeport.

These are the folks who are convinced that they are special and have all of the answers that poor working folks need to make it. They are in possession of economic power and political power. They have attended Ivy League Schools, and have benefited from the exclusive internships, clerkships and connections to the networks of the "masters of the universe."

They are convinced that they are the good guys and are in the exclusive possession of ultimate truth. Those who disagree with them and resist them are to be despised and labeled deplorable. To keep us in line and shut down any real or meaningful debate, they immediately have a knee-jerk response to anyone who disagrees with them. They call them racist, bigot, homophobic, sexist and by throwing those labels around, they believe that ends the argument. They want to fight ignorance and poverty, and they do so by keeping those of us in the minority community ignorant and poor.

They want our votes, they want our praise, they want our ears, our attention, but they don't really want our opinion. They pretend they have our welfare and best interests at heart, but they look down their Ivy League noses at us, with a thinly disguised contempt.

Here in Bridgeport, we have seen this up close.

Just remember the state takeover of our public schools. In a brazen attempt to disenfranchise us, they were willing to do to the City of Bridgeport, that which they would never think of doing to our suburban neighbors.

The Hartford elite, consisting of the all-knowing white liberals, installed a corporate board run by out-of-towners who brought in a charlatan from Chicago, Paul Vallas, to dictate education policy to the ignorant. Only a grassroots effort, which included legal action, succeeded in thwarting this fiasco.

No elite philanthropic foundation funded this grassroots effort. Instead, the elite sought to impose on us that which they would never accept in their own communities.

The latest iteration of this phenomenon is called Bridgeport Generation Now, a/k/a Bridgeport Generation Now Votes. According to their web page, this group of self-promoting do-gooders, led by Callie Heilmann, "strives to empower and unite our communities through civic engagement, policy work, community organizing and education." They claim to be civic and political leaders of our community and we are expected to accept that leadership.

Why? Because they say so!

Currently, this group is enjoying its 15 minutes of fame. It appears in daily press and media reports that describe rallies, lawsuits and commentary. To the average Bridgeport resident and taxpayer, all of this sound and fury signifies nothing.

It is hard to believe that this group really believes that it intends to empower community folks when its power structure is identical to power structures used by so-called oppressors.

The Secretary of the State's Office lists Ms. Heilmann as the President of the Organization, and her husband, Niels Heilmann, as the Treasurer. The organization was first registered in 2016, and no change in leadership has been noted on the official registration records since its inception.

According to a press report, Ms. Heilmann is the only staff member employed by the organization.

However, these well-connected activists know that it is important to put the right face on an organization for public relations purposes. Generation Now Votes, an offshoot of Generation Now, whose existence is probably motivated by a desire to shield Generation Now's tax exempt status from IRS scrutiny, recruited three "community individuals" to serve as plaintiffs in a pending lawsuit. This "beard" fools no one. The elitist puppeteers are choreographing, directing, and undoubtedly funding the entire performance. Perhaps the Generation Now leaders and organizers do not wish to be branded losers, in the event that what the CTPOST describes as a "longshot lawsuit" is unsuccessful.

True community leaders are capable of having an eye-level conversation with the people of Bridgeport. Leadership cannot be demanded, it must be earned. Otherwise, these self-anointed leaders will always be what former State Representative Hector Diaz labeled them; "tourists."

Abraham Lincoln once famously said, "Nearly all men can stand adversity, but if you want to test a man's character, give him power."

It is frightening to think that organizations like Generation Now can someday obtain real power.