Okay kids, 10 days left to meet Jodi's Jail deadline.
Governor Jodi Rell wants to place a $20 million juvenile detention center for girls in a residential area of the Upper East Side. Neighbors don't want it there so after ear-splitting noise Jodi gave the city 30 days to find a less-impacted location.
On Wednesday a key meeting is scheduled to take place when Mayor Bill Finch shares prospective alternate locations with members of the city's legislation delegation. This is a wise move by the mayor. You don't want to propose alternate sites and risk another neighborhood freak-out without checking with the peeps' state-elected representatives.

Clearly hizzoner didn't have a problem with Jodi's proposed location but with neighborhood opposition soaring has reinvented his position. So too State Senator Anthony Musto of Trumbull, who had kicked out a press release extolling the governor's proposal, then said, wait, time out. Anthony, you cannot say, as he told the Connecticut Post, that you didn't know about it, then supported it, and then proclaim it's not the right location. That tells me he didn't do his district homework. Musto's senate district represents half of Monroe, Trumbull and a portion of Bridgeport. Gee, do ya think Anthony would have paid closer attention if Jodi wanted to stick it in Trumbull? Yup.
State Rep. Chris Caruso has led the jihad against the governor's proposed site. The Big Wave, no doubt, will weigh in on a new location during the Wednesday meeting.
My suggestion? Build it in Brookfield, Jodi's home town, but in lieu of my suburban misdirection the city will offer locations with the least impact on city neighborhoods. Finch is trying to balance the governor's needs with what he may need from her on other projects. Former Bridgeport Director of Economic Development Nancy Hadley, who resides downtown several blocks from the state's detention center for boys, says that location on the Pequonnock River could be fit up to accommodate the girls' facility as well. We'll see what the city proposes and what the state accepts.
The Budget, Always The Budget
The city budget, according to a report that was handed out at the last City Council meeting, shows a current year deficit of $2.5 million, most of it due say city budget staff to reduced funds from the state for slot revenues from gaming operations and payments in lieu of taxes for tax-exempt properties. The state, as part of an agreement signed under then-Governor Lowell Weicker, receives 25 percent of the slot take and shares a portion with cities and towns. The budget year ends June 30, and city bean counters are looking for ways to close that gap.
Meanwhile, bean counters are preparing a new budget for submission to the City Council in April for the budget year that begins July 1. This is Mayor Bill Finch's third budget since taking office December 2007, and most critical to his reelection effort in 2011. His first budget had a sizable tax increase, second one a mixed bag as reval kicked in. This budget will determine whether he taxes the electorate beyond its breaking point or stays in the game.
Will Shays Play?
If former Congressman Chris Shays enters the race for governor, it's a game changer. But will he? The chatter has begun and state political columnists are speculating. Right now the GOP side has two leading candidates, Lieutenant Governor Michael Fedele and former ambassador to Ireland Tom Foley who has lots of his own loot to spend. Neither is well known yet. If Shays enters he becomes a Republican front runner for the gubernatorial nomination by bringing a voter base to the table. Shays' electoral standing, despite losing his Congressional seat to Jim Himes in Barack's 2008 election tsunami, is excellent with Republicans. Connecticut's Fourth Congressional District that Shays served has the highest concentration of Republicans in the state.
Shays' hard position in support of the war provided an opening for Himes riding voter enthusiasm for Barack. The game has changed, however. Connecticut voters are now worried about spending in Washington and spending in Connecticut. Shays was always at his best when he was a Washington budget hawk. Didn't matter what president occupied the office or the party in control, he was a critic of nutty spending. If Shays gets in he'll be making a transition from legislative mind to that of a chief executive. It's been done before. Shays will be in Connecticut on Wednesday as the guest of honor for a roast and toast to benefit www.soundwaters.org. Shays sold his home in Bridgeport several months ago, for residence in Maryland, but could he make a return?
Russo's Flight Pattern
Nice to be a pilot. Bridgeport resident and Congressional candidate Rob Russo received a plea for help for Haiti supplies and responded. See excerpt from a Journal Register publication in Pennsylvania:
By Toni Di Domizio, Journal Register News Service

When more than 750 pounds of medical supplies land in Santo Domingo this weekend, the American Red Cross and people of Haiti have Angel Flight East to thank.

The Whitpain organization is assisting a team of physicians from Lourdes Health System in Camden, N.J., and Virtua Hospital in Marlton, N.J., that are calling themselves "Team Ange," the Haitian name for angel.

The supplies include orthopaedic surgical equipment, an anesthesia machine, a generator, casting equipment and necessary medications. All supplies have been donated by Shriners and local medical facilities.

"The doctors that reach out to us did a search and found us," said Maureen Schmidt, executive director of Angel Flight East, which is headquartered at Wings Field in Whitpain. "We have pilots that volunteer their plane, time and fuel expenses so we can transport medical supplies in a disaster time."

Team Ange has arranged for transportation from Wings Field to Ft. Lauderdale, Fla., and then on to Santo Domingo, Dominican Republic.

Supplies will then be taken to Jacmel, Haiti, by either plane or boat.

The pilots taking part are Rob Russo from Connecticut and Jochen Spengler from New Jersey.

"Over three days, we have been trying to work out the logistics, with clearances and being able to get in and out of ports and finding places where planes can fuel. We put a plea out to our volunteer pilots, and two were willing to do it," Schmidt said.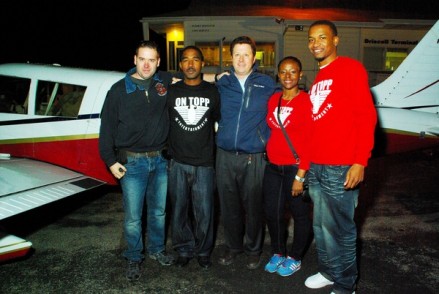 Promote The Arts, Good Stuff
From Phyllis Boros, Connecticut Post
Bridgeport, long devoid of a marketing arm to promote its quality-of-life assets, finally has an Arts & Cultural Council — and a Washington, D.C., marketing veteran to head the fledgling organization.

Penny Harrison, who for more than 25 years has specialized in the management of nonprofit agencies, has been chosen from among 40 candidates to lead the council, according to Robbin Zella, director of the Housatonic Museum of Art and one of the community activists instrumental in the group's formation.

The appointment — made by Zella and other members of the council's steering committee — is effective immediately. Contacted in Virginia, where she has homes in Charlottesville and White Stone, Harrison said her primary responsibility as executive director will be to organize and enlarge the city's arts and cultural community so that it can play a larger role in the city's economic growth and renaissance.

The part-time position comes with a $30,000 salary; Harrison has a one-year contract that is renewable.

"There is so much potential here; it's so ripe for development. In fact, anytime you have a community located on the water, it should be the focus of a lot of tourism."

Jump-starting Bridgeport's economy through the arts will be "a big challenge . . . and I want to be a part of that."

Harrison said that she is aware that Bridgeport has had to deal with corrupt public officials, empty promises and bad luck, but does not intend to dwell on the past.

"There are enough good people here to make this work. I'm going to keep the blinders on and concentrate on moving forward. I'm starting out with a blank canvas."

Her appointment follows more than four years of planning, during which a cultural assessment was completed, in part, with U.S. Small Business Administration funding.

That study, done by Massachusetts-based community planning consultant Dr. Craig Dreeszen, determined that the city desperately needed to better promote its individual artists and nonprofit groups, noting that a vibrant arts/culture scene is important to any community as a economic engine and is essential for Bridgeport in particular as a draw for investors, developers and young professionals.

Housatonic Community College President Anita Gliniecki will formally introduce Harrison to Bridgeport at a free, public reception Feb. 10 at 6 p.m. at the college's Housatonic Museum of Art. HCC is serving as the fiscal agent for the council and is donating office space for two years.

Providing the first-year funding

Securing start-up monies, especially with the implosion of the economy, was especially challenging, Zella noted, but was made possible because the funders "understand how important this is to Bridgeport and its future." Providing first-year funding are the Fairfield County Community Foundation, $25,000; the Werth Family Foundation of Woodbridge, $15,000; the Connecticut Commission on Culture and Tourism, $5,000; and the City of Bridgeport, $2,000.

Harrison, who is a self-taught mixed-media artist, will continue to live in Virginia with her husband, Joe Latham, a maker of stringed instruments — and their chocolate Labrador, Indie.

The couple have two sons in their 20s who are both musicians. In Bridgeport, Harrison is renting a furnished apartment from a friend; she plans to spend a minimum of 10 days per month in the Park City and to "also will work remotely" from Virginia.

Her first and most pressing job will be to secure nonprofit status (tax-exempt status under section 501(c)(3) of the Internal Revenue Code available to religious, educational, charitable, scientific and literary groups among others), which would aid the group in its fundraising goals, she said.

not a cultural wasteland

As executive director, Harrison said she also will work to combat the notion, rife in suburbia, that Bridgeport continues to be an arts/cultural wasteland, when in fact the city boasts several nonprofits that many American cities of similar size would be overjoyed to have — gems such as the Barnum Museum, Housatonic Museum of Art (with one of the largest art collections owned by a two-year college in America, valued at more than $11 million); Discovery Museum, Greater Bridgeport Symphony, the Klein Memorial Auditorium, Playhouse on the Green, City Lights Gallery, Downtown Cabaret Theatre, Bridgeport Public Library and Connecticut's Beardsley Zoo. And given its proximity to Manhattan, the Park City is home to numerous individual visual artists, musicians, dancers and actors as well, she added.

Harrison pointed out that she has worked in nonprofit management in various capacities — such as president, executive director, senior manager, project director, fundraiser, event producer, writer and public speaker — and has produced arts events at the United States Capitol, Smithsonian Institution, Kennedy Center and National Science Foundation, all in Washington, D.C.

Her resume also notes that she is the founder of Hispanic Designers Inc., a national nonprofit that she managed for 18 years, where she was responsible for raising hundreds of thousand of dollars, providing scholarships for young clothing designers and producing live runway shows.

She also ran a $7 million public service campaign for the U.S. Centers for Disease Control and Prevention, developing a campaign for AIDS education. She also is an Emmy Award-winning creative director for more than 50 public service announcements.

Harrison's professional certificates include those from the Fund Raising School at Indiana University. She received an associate's degree from American University in Washington, D.C., and also studied at George Mason University in Fairfax, Va.

She is now completing her bachelor's degree at the University of Massachusetts at Amherst, where she intends to pursue a master's degree in arts administration.

Tapping into the 'creative workers'

"I believe the arts can mean prosperity for Bridgeport," Harrison said.

According to Harrison, author Richard Florida points out in his book, "Cities and the Creative Class," that more than 5 million "creative workers" live in the Boston-to-Washington D.C., corridor.

And Bridgeport, she said, is becoming well-positioned "to draw some of those workers to our city with reasonable rents, condo sales, factory space, studio space, tax credits" and a host of other enticements.

"Maybe I'm being very naive, but I think it's time that we go for it."