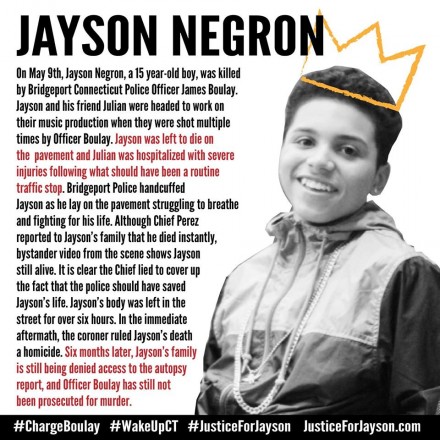 State's Attorney Maureen Platt on Friday is expected to release the findings of a state law enforcement probe into the May 2017 police-involved shooting death of 15-year-old Jayson Negron.

According to police Negron and 21-year-old Julian Fyffe were in a stolen car pursued by police near Fairfield and Park Avenues. The two were shot by Police Officer James Boulay. The state probe, as is protocol for a police-involved shooting, is examining the conduct of the officer be it justified or culpable.
Several community groups have protested the shooting. According to the Facebook page Justice for Jayson a gathering will take place at "Jayson Negron's Memorial Site at the 1000 Park Avenue in Bridgeport after State's Attorney Maureen Platt releases her decision on James Boulay on January 26th. We will use this gathering site to remember Jayson Negron in this crucial moment and mobilize the community to continue the fight for Jayson until we win. The only outcome we will accept is a murder charge. Stand with us. Stand in solidarity with Jayson's family."
State law enforcement officials are expected to meet with Negron family members prior to the public announcement scheduled for Friday afternoon. Local law enforcement is bracing for added police presence following the announcement.
"The Bridgeport Police Department will be here to ensure public safety," says Chief AJ Perez.