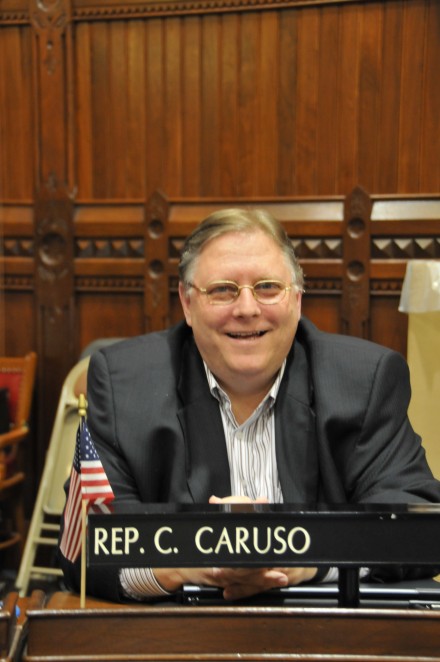 On Valentine's Day in the North End there was no love for developer Hugh Scott who wants to transform the shuttered former Stop & Shop building on Madison Avenue into a public storage facility.
More than 50 neighborhood stakeholders attended his presentation. By the time he was done it was more like "we want Hugh out." The audience rallied behind a salient suggestion advanced by former State Rep. and two-time mayoral contender Chris Caruso calling for a senior citizen quality of life plan such as housing and/or a new senior center.
City zoners are expected to consider Scott's plan later this month.
Based on Tuesday night's reception at the North End library, Scott has reason to reassess his plans.
In this mayoral election year, the North End could be a noisy place for candidates who don't embrace Caruso's suggestion. Ganim opponent State Senator Marilyn Moore, chair of the legislature's Housing Committee, backs some form of Caruso's optics.
Mayor Joe Ganim would be wise to declare "me too."
Caruso, an eagle scout, enjoys a eagle's rapt attention for easy prey. His suggestion makes sense for a neighborhood that feels put upon by high density.
The Stop & Shop, deceased in 2012, wasn't a welcomed neighborhood partner in the first place, shoehorned on the former Dewhirst Dairy property surrounded by residential homes, an act of dubious zoning reinvention nearly 30 years ago. It did not fit in, nor the added burden of traffic.
North Enders prefer the peaceful ambiance of a senior facility. They know what they're getting, or at least have a much better idea than what could become of a self-storage destination.
Last year many residents made clear a Fairfield University proposal to create a two-year college on property owned by the Diocese of Bridgeport should find another neighborhood. Their voices were heard. Ganim, after North End pushback, sided with the concerns.
The college plan has segued to diocese property on the East Side that appears more accepting. Applications are being processed for the 2023-2024 academic year.
Irrespective of Ganim-haters demagoguery of the zoning board's political intrusion, he doesn't pine to stick his nose into all things zoning.
On this one common sense dictates he should. A tin ear to the North End is asking for a messy election cycle.
And while at it, how about calling for the property's residential rezoning?
The Ganim administration's anticipatory skill set often reveals the tighty-whities. Not a pretty sight. We saw that with Hearst Media's recent unpacking of the mayor's cavalier attitude toward the releasing of public records. It wasn't like he wasn't warned.
Fixing stuff after being called out has a life expectancy. It's a slippery slope. Do that enough and here comes a swift kick to the cashews … with matching tighty-whities.
Can you imagine how Joe Ganim the candidate would handle these low-hanging fruit opportunities?
Gee, there's an idea: how would candidate Joe run against Mayor Joe?
Maybe the mayor's better off running against himself. It would rescue him from a lot of grief.