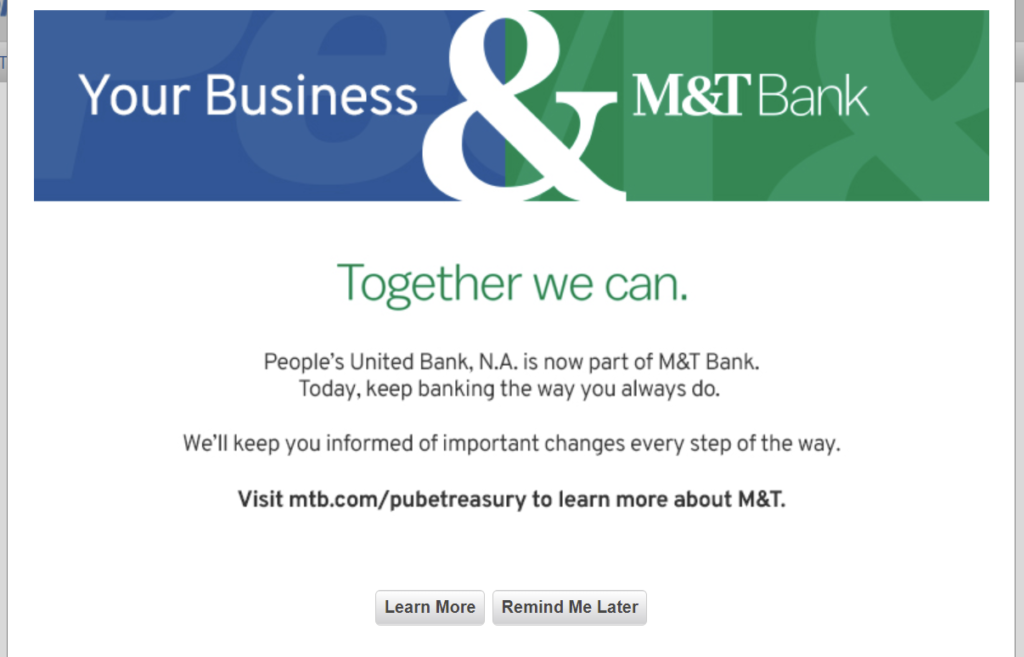 M&T Bank announced on Saturday the official takeover of Bridgeport's mighty financial institution People's United Bank. Bank history here.
From M&T
M&T Bank Corporation (NYSE: MTB) ("M&T") announced today the successful completion of M&T's acquisition of People's United Financial, Inc. (NASDAQ: PBCT) ("People's United") valued at $8.3 billion. The combined company employs more than 22,000 people and has a network of over 1,000 branches and 2,200 ATMs that span 12 states from Maine to Virginia and Washington, D.C. People's United common stock no longer trades on the NASDAQ after Friday, April 1, 2022.
"Today marks an important day in M&T's history as we welcome People's United to our family," said René Jones, chairman and chief executive officer of M&T, who will lead the combined company in the same capacity. "People's United is a strong strategic and cultural fit and I am truly excited about the positive impact our combined company will have in the communities we serve. Together, we have the capabilities and scale of a regional bank with the engagement model of a community-based organization to help us better serve new and existing customers, businesses and communities."
The acquisition accelerates M&T's growth trajectory and strengthens the company's financial profile for continued success. M&T will build on People's United's complementary footprint to reach a broad range of customers and expand into new regions. The franchise will operate across some of the most populated and attractive banking markets in the U.S. As part of this effort, People's United's headquarters in Bridgeport, Connecticut, is now M&T's New England regional headquarters.
The combined company will continue to focus on delivering superior customer service and strong engagement in the communities it serves. Clients of People's United will continue to be served through its current branches, websites, mobile apps, financial advisors and relationship managers until its brand and systems are fully converted to M&T's, which is expected to occur in the third quarter of 2022. However, customers from both M&T and People's United can now use any M&T Bank or People's United Bank ATM to withdraw cash.
As part of the merger, M&T Bank previously announced a five-year community growth plan–developed in collaboration with the National Community Reinvestment Coalition (NCRC) and local community organizations–that will provide loans, investments and other financial support for low-to-moderate income (LMI) families and neighborhoods across the combined M&T and People's United footprint.
Both M&T and People's United have been long recognized for their community commitments and support of civic organizations. Over the past decade, M&T and its charitable foundation have contributed over $279 million to more than 7,600 nonprofits. Since their inceptions, People's United Community Foundation and People's United Community Foundation of Eastern Massachusetts have collectively granted over $47 million to thousands of nonprofits within the geographic area they serve.
1. For People's United customers, when will the name of their bank (and other signage, logos, etc.) change?
While People's United is now part of M&T Bank, its former branches and most services offered will operate as "People's United, a division of M&T Bank" until we complete the integration of our systems in the third quarter of 2022. During this time, account information, account-related documents, including debit card and branch/ATM receipts, and other banking materials may continue to reflect the People's United Bank, N.A. name or logo or other People's United branding.
2. How and when will M&T communicate to People's United customers about changes?
We will be notifying customers well in advance of any changes to their accounts or other services. Customers should look for the "M&T green" logo in their mail for important updates. They can also get up to date information at mtb.com/peoples.
Since the privacy and security of our customers' information is important to M&T, People's United customers are reminded that M&T will never request any sensitive information such as personal data, account or card numbers, user IDs or passwords through unsolicited emails, texts, or phone calls.
3. Can People's United customers now do their banking in M&T Branches and at their ATMs?
People's United customers should continue to use People's United branches, websites, mobile apps, financial advisors, and relationship managers until our systems conversion is complete in the third quarter of 2022. However, both M&T and People's United customers will be able to withdraw cash from any of the more than 2,200 M&T and People's ATMs from Maine to Virginia, including Washington, D.C.
4. What about People's United checks, debit cards, credit cards?
People's United customers should continue bank as they normally would–and that includes using their current People's United checks, debit cards, and credit cards. All accounts will move to M&T branded materials after systems conversion in the third quarter of this year.
5. What about customers with loans from People's United?
People's United customers should continue to make loan payments as they currently do. Their statements and other communications will have the People's United name until they're updated with the M&T Bank name. Customers should note that payment addresses may change in the future, but this won't be until later in 2022, and they'll receive notice in advance from M&T.
6. What should customers do if their contact info has changed?
If a current People's United customer name, address, email or phone number has changed, they should update their information as soon as possible so they'll be sure to receive all important communications from M&T, as well as materials such as new debit cards, checks, etc. They can update their info through People's United Online Banking, at any People's United branch, or by calling 1-800-894-0300.
About M&T Bank Corporation
M&T Bank Corporation is a financial holding company headquartered in Buffalo, New York. M&T's principal banking subsidiary, M&T Bank, provides banking products and services in 12 states across the northeastern U.S. from Maine to Virginia and Washington, D.C. Trust-related services are provided in select markets in the U.S. and abroad by M&T's Wilmington Trust-affiliated companies and by M&T Bank. For more information on M&T Bank, visit www.mtb.com