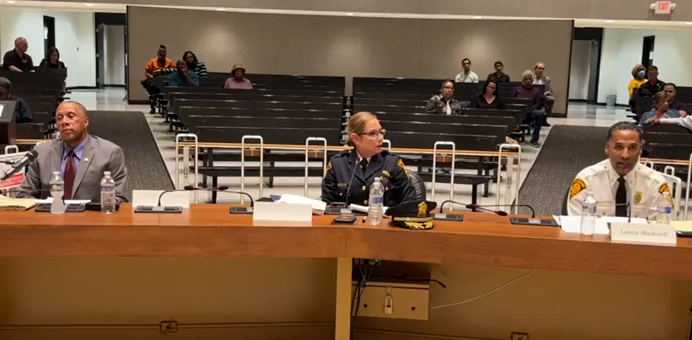 Following live and streamed forums for public review, City Council assessment and state legislative delegation input, Mayor Joe Ganim has met straight up with each finalist for chief of police–Acting Chief Rebeca Garcia, Captain Lonnie Blackwell, retired Captain Roderick Porter–with a decision expected soon to tap a new top cop to a five-year appointment whose contract will go to the legislative body for approval.
Whether you're a supporter or not of Ganim, no police chief search has availed such public openness, after city voters approved more than 30 years ago a City Charter change for the mayor to appoint a new chief to no more than two, five-year contracts.
Four years ago it was messy: then Acting Chief Armando Perez connived the test questions in his favor with help from subordinates to finish in the top three from which Ganim could make a choice.
Following the fallout of Perez's arrest and subsequent resignation in 2020, Ganim appointed Garcia acting chief.
Ganim hired the International Association of Chiefs of Police to lead a national search to present him three finalists all with local ties to the department.
In public forums, elbows were particularly sharp between Garcia and Blackwell who feels she marginalized his attributes to the department while Garcia asserts he has tried to undermine her leadership. Along the way, Porter retired, then reemerged as a finalist, as he had during the testing process four years ago.
Now we are here.

Garcia, Blackwell and Porter all enjoy support from various advocacy groups: Garcia from Hispanics within the department, Blackwell from Blacks within the department, Porter from Ganim-critic Bridgeport Generation Now whose leadership supported State Senator Marilyn Moore for mayor in 2019.
Ganim will not isolate his decision from all of the above.
He will, however, process: if I do this, what happens with that?; if I appoint this person, does this one quit?; if I select he/she/she/he can they get along?
Example: if he doesn't appoint Garcia will she revert back to the assistant chief position she occupied prior to her temporary appointment?
Superior Court Judge Barry Stevens has ruled that such a position cannot be filled unilaterally as was the case with her assistant chief appointment and must be part of a competitive process.
If he chooses Blackwell, how does that dynamic play into his frosty relationship with her?
If he chooses Porter, does that create more department harmony than selecting Garcia or Blackwell? Right now the internal politics of the department is scratchy.
Who among the three will serve as an effective public face while managing the internals of the building?
While Ganim ponders this five-year contract appointment that includes a six-month probationary period, he's also looking to next year when he asks voters for another four-year contract for himself.