When you're a candidate on the campaign trail appealing to voters the challenge is explaining why you'll be different particularly if an elector declares "The Democratic Party takes the African American vote for granted." In the video clip above pulled from Mayor Joe Ganim's Facebook page for governor, a resident of Capitol Towers in Hartford expands broadly "Stop blaming the victims. You understand? My father was born in Georgia, my grandfather was born in Georgia, his father was born in Georgia, all the way to the slave ship that brought me here. I'm an American but I'm not treated like one."

In sleepy, low-turnout primaries persuading skeptical voters to turn out requires resilience. Primaries feature serial voters, those who reliably turn out. Convincing the frustrated voter who asks "What's in it for me?" can make the difference between winning and losing.
Three weeks away from primaries all candidates for statewide and local office face the same challenge, dragging people out in an August vote.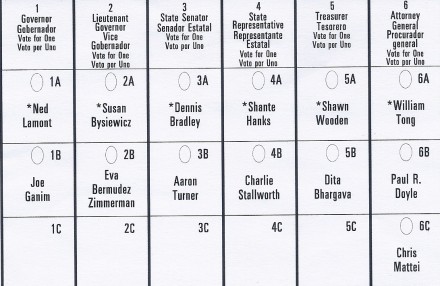 The push to convince voters is now in full mode, including absentee ballots that become available on Tuesday.
Complete list of qualified candidates:
The first candidate listed is party endorsed.
Democrats
Governor
Ned Lamont
Joe Ganim
Lieutenant Governor
Susan Bysiewicz
Eva Bermudez Zimmerman
State Senator 23rd District
Dennis Bradley
Aaron Turner
State Rep. 126th District
Shante Hanks
Charlie Stallworth
Treasurer
Shawn Wooden
Dita Bhargava
Attorney General
William Tong
Paul Doyle
Chris Mattei
Republicans
Governor
Mark Boughton
Timothy Herbst
Steve Obsitnik
Bob Stefanowski
David Stemerman
Lieutenant Governor
Joe Markley
Jayme Stevenson
Erin Stewart
U.S. Senator
Matthew Cory
Dominic Rapini
State Senator 23rd District
John Rodriguez
Casimir "Caz" Mizera
State Rep 128th District
Luis Colon
Ethan Book
Treasurer
Thad Gray
Art Linares
Comptroller
Kurt Miller
Mark Greenberg
Attorney General
Sue Hatfield
John Shaban