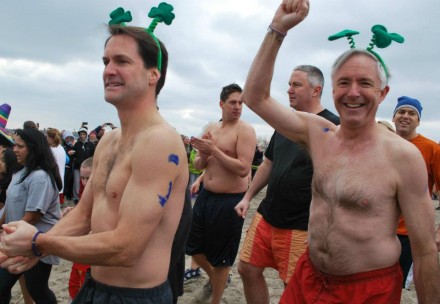 Nearly four years ago Jim Himes rode the Barack Obama tsunami into Congress. Connecticut's 4th Congressional District has 17 communities. In 2008, Himes won just three–Bridgeport, Stamford and Norwalk–but it was enough to lance Bridgeport resident Republican Chris Shays who's trying to make a comeback this year in a run for U.S. Senate. In political terms 2008 was a 50-year storm.

Monday evening Himes will embrace the endorsement of the Democratic Party for re-election to the U.S. House of Representatives at a convention at Cesar A. Batalla School, 606 Howard Avenue.
It's not easy balancing the needs of the state's largest city (Himes' base) among the affluence of America's wealthiest county. Himes has a finance background and so far he has figured out a way to persuade voters he has balanced the finances of the needy with the wealthy. What's the evidence? His reelection in 2010. He won towns such as Fairfield, Redding, Westport and Weston outright. As a Democratic congressman, that's no fluke. His Republican opponent Dan Debicella had plenty of dough to make his case.
In November Himes will be back on the ballot with Barack once again leading the ticket, but less the fascination he brought to the table in 2008. Barack must now run on his record opposed by Republican Mitt Romney who appears so far to be a stronger candidate than John McCain. Fairfield County is the base of Connecticut's Republican Party. If they have any chance to make gains they must run up numbers there.
Himes knows Bridgeport represents his base. But he is doing so while building prestige among his entire constituency.
Himes' leading Republican challengers Steve Obsitnik and Chris Meek, whoever emerges as the GOP standard bearer, must win back those suburban towns Himes placed in his column two years ago to have a chance at knocking him off. And yes, finding a way to limit Himes' blowout in Bridgeport. In campaigns winning is always relative. If a Republican candidate for federal office can secure 30 percent of the vote in Bridgeport, that's a win.
Meanwhile, come Monday night Democrats from across 17 communities will visit Bridgeport, led by Mayor Bill Finch, to serenade Himes' endorsement.