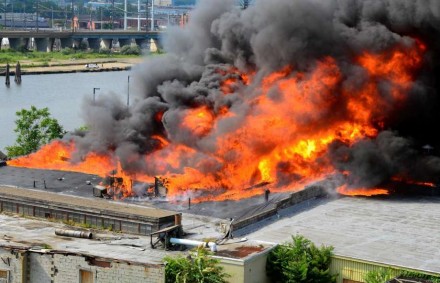 Update: City orders emergency demolition. See here. "Due to the fire and safety hazards that currently exist because of the most recent fire (Wednesday), an emergency order for demolition was issued by the Building Department in collaboration with the Bridgeport Fire Department," according to city spokeswoman Rowena White. A demo crew was on site Friday morning.
Original story: In the thick of the campaign season in 2015, following a series of fires, then Mayor Bill Finch announced a $200,000 grant from the Environmental Protection Agency to help clean up the blighted mess of the former AGI Rubber plant along Stratford Avenue close to the development progress at Steelpointe Harbor featuring Bass Pro Shops as the anchor tenant. Wednesday afternoon city firefighters battled another blaze at the location.

This is a significant waterfront piece to resolve because doing so helps create a clean path from Downtown to Steelpointe Harbor on the East Side. CT Post account of fire here. Environmental cleanups can cost a fortune. It begs the question, how/when/if was the $200k implemented? How much more is needed? What was the follow-up to avoid another fire?
What follows is video and news release from mayor's office in 2015 when Finch was mayor.
Bridgeport Mayor Bill Finch joined officials from the Environmental Protection Agency in announcing a $200,000 grant from the federal agency to clean up the run-down property at 141 Stratford Avenue. The site formerly housed the company AGI Rubber, but has been run-down for decades (click here for video, click here for photos, and click here for a map pinpointing the location of 141 Stratford Avenue). In response, Bridgeport Mayor Bill Finch made the following statement:
"This is great news. With these funds, we'll soon begin knocking down a run-down property that has plagued a central location in our city for decades. Doing so will make the property more attractive to job creators and investors, allowing us to continue developing the waterfront. Thanks to the Environmental Protection Agency and our federal delegation for working with us to make Bridgeport better every day."