Following Democratic State Senator Marilyn Moore's blowout primary win over party-endorsed Tom McCarthy, including a strong showing in Trumbull in the multi-town district, Republican First Selectman Tim Herbst released this commentary calling her win a "repudiation of the party establishment and a repudiation of the politics of personal agendas and hatred." Trumbull Dems who supported McCarthy accused Moore of working closely with the Republican leader. Moore's response: isn't it my job to work with everyone to help my constituents? Herbst pulls no punches.

The late Peter DiNardo and Richard Aiello were two giants in Trumbull politics. They were able to build the Trumbull Democratic Party into a significant force for more than thirty years. From 1971 to 2011, no Republican was re-elected to a second term as First Selectman. They built a strong organization that had a set of values. While I disagreed with a lot of what they stood for, I can say without hesitation that they at least stood for something. In 2011, those principles flew out the door, in favor of radical, petulant, militant, toxic behavior. Yesterday, voters in the 22nd Senatorial District got a real view of what the Trumbull Democratic Party has become and how the actions of a few do not represent the actions of all.

The Trumbull Democratic Town Committee preaches civility at the same time they practice outright hatred on a daily basis via social media. They have often been critical about how I need to be more inclusive and work across the aisle. Yet, throughout the course of this primary campaign, they openly punished an incumbent Democrat seeking re-election for working with my administration on issues impacting Trumbull. They even sent out a mailer basically saying that public officials from different political parties should not work collaboratively once elections are over. They claim to have a big tent at the same time they denied an African American woman re-nomination to an office she was elected to by voters. Instead of telling us what they stand for, they constantly remind us what they stand against. Their hypocrisy drowns out their piousness.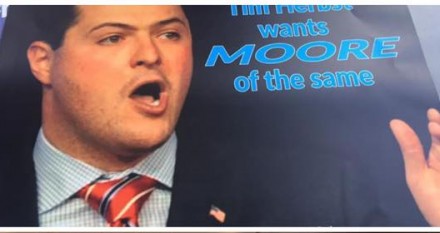 Yesterday, voters in Trumbull sent a message that they do not embrace the agenda of the current TDTC and they are tired of all politics, all the time. Almost unanimously, the Trumbull delegation denied re-nomination to an incumbent State Senator who had toed the party line loyally and faithfully for two years. Two former Democratic First Selectman, Ray Baldwin and Paul Timpanelli were among her biggest critics and among Tom McCarthy's biggest cheerleaders. And despite having the entire Trumbull establishment behind him, McCarthy ended up tying Marilyn Moore in a community where she only received 19.4% two years ago. This is a repudiation of the party establishment and a repudiation of the politics of personal agendas and hatred.

One only needs to look to their leader to determine what the Trumbull Democratic Town Committee has become. It has become a dumping ground for disgruntled ex-Republicans who've hijacked the party by taking their toys and going home when they don't get their personal agendas satisfied. Tom Kelly, their Chairman, ran for office in 2009 as a Republican, after returning to Trumbull as a resident in 2008. On November 15, 2010, Mr. Kelly switched his party affiliation from Republican to Unaffiliated. On April 12, 2011 he switched his affiliation from Unaffiliated back to Republican and on December 27, 2011, he switched his party affiliation from Republican to Democrat. In 2010, he supported David Pia for the State Senate and Tom Foley for Governor. In 2012, he was supporting Anthony Musto and Barack Obama. Any person that can change their value system, their moral fiber and their ideals so drastically in so little time lacks honesty and integrity. Mr. Kelly is motivated not by principles, but by a pure personal agenda.

This is not the legacy of Peter DiNardo or Richard Aiello. Peter's daughter Nancy was the local DTC Chair for many years before she became State Party Chairwoman. I've had the occasion to work with Nancy and go up against her in many elections. Nancy DiNardo and I disagree on probably 90% of the issues, but I respect her. She always acted like a professional and never allowed it to get personal. If she's reading, it is my hope that Nancy DiNardo can honor the legacy and the memory of her father and take her party back from insurgents that stand for nothing and advance nothing positive for the public good.