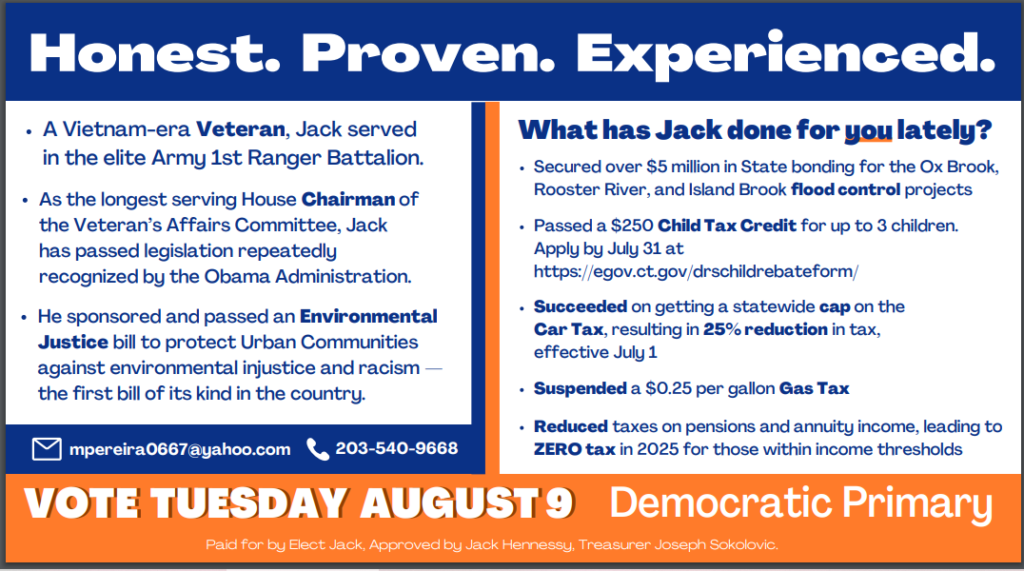 Jack Hennessy walk piece
This race has a bit of everything: young versus veteran office holder, changing demographics, disparate personalities.
State Rep. Jack Hennessy, senior member of Bridgeport's nine-person legislative delegation, and party-endorsed City Councilman Marcus Brown have rolled out walking pieces for their August 9 Democratic primary clash.
Hennessy, primary-free since 2006, has a savvy campaigner backing him, City Councilwoman Maria Pereira who is listed as the contact person on the walk piece. Pereira has assumed a leading role in the campaign while another high-profile pol, former State Rep. and two-time mayoral candidate Chris Caruso has reduced his stature in the race, resigning as treasurer. School board member Joe Sokolovic is now the treasurer?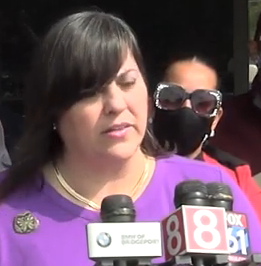 What gives?
Unclear what's going on but when two potent personalities come together in Pereira and Caruso, something's gotta give.
When it comes to campaigning Pereira is something of a Swiss Army Knife with multi-tools to bring to the table. She can organize absentee ballot outreach, frame messaging, neighborhood canvassing and highlight issues. She has sharp elbows.
For Hennessy, retired after 32 years working as a FedEx truck driver, it pays to be a licensed massage therapist and low-key Reiki Master when balancing political personalities.
Brown, 30, has a lot more flourish to his personality with a tireless worker of his own backing him, his fiancé and mayoral aide Tom Gaudett in charge of the nuts and bolts of campaigning.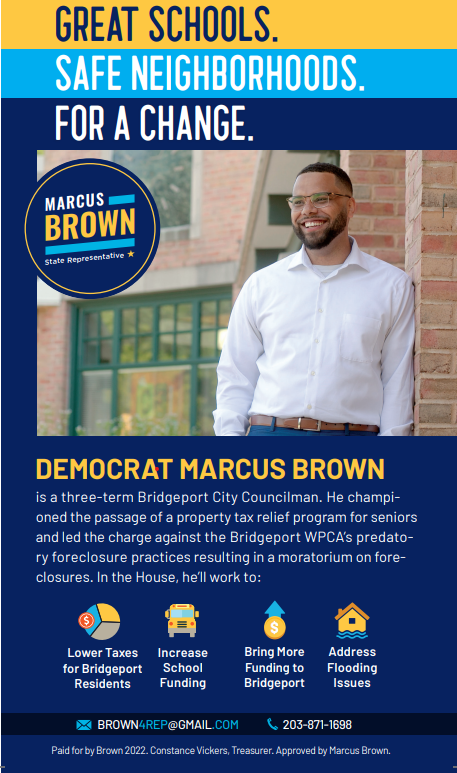 Marcus Brown walk piece
Mayor Joe Ganim and Democratic Town Chair Mario Testa are backing Brown. Pereira is anathema to both of them.
The demographics of the district have changed dramatically in the 18 years Hennessy has occupied the seat. Once heavily Italian and Irish American, the district is no longer predominantly White. Connecticut's 127th State House District covers the North End and a piece of the West Side, Brown's home carved into the voting area in the latest redistricting, an ambitious notation that certainly will emerge central in the campaign.
Two years ago, Brown came up short in a primary contest against State Senator Marilyn Moore. This time around, he's battling Hennessy.
To many new district voters, Brown will be framed as a fresh face devoid of tired politics. If they don't know Hennessy, will they gravitate to Brown? Yes, if you touch them enough times: door knocks, phone calls, mail pieces.
Hennessy is not known as an aggressive campaigner. In his defense he hasn't had to become one generally facing voters in message-based general elections. Primaries are lower-turnout different animals with a premium placed on retail.
This race is a contrast-laden one to watch, with an emphasis on voting via absentee ballot. A new state law allows electors to vote by absentee simply by noting Covid as a health safety precaution. It will come up during door knocks and phone calls.
The campaign that runs the tightest absentee operation could very well emerge victorious.