Consistency in various polls shows Governor Ned Lamont with a commanding lead over Republican Bob Stefanowski. If a red wave is coming to Connecticut at this point it may require the staff of Moses to part favorable waters.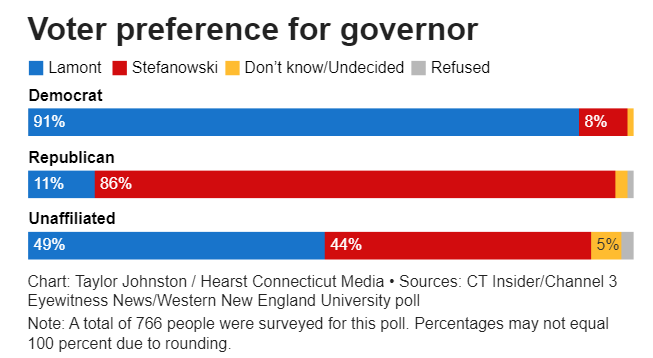 From Julia Bergman, CT Post:
Gov. Ned Lamont, buoyed by strong support from women and solid job approval ratings, has a 15-point lead over his Republican opponent, Bob Stefanowski, according to a new poll of likely Connecticut voters.

Lamont leads Stefanowski in the rematch in the race for governor 55 percent to 40 percent in a survey of more than 750 registered voters conducted from Sept. 15 to Sept 21, with three percent undecided and two percent declining to reveal a preference, according to the results released Tuesday. The margin of error is 3 percent.

The CT Insider/Channel 3 Eyewitness News/Western New England University poll mirrors findings from other recent surveys on the November election, which have shown Lamont and other Democrats with commanding leads.

Lamont has an edge over Stefanowski among unaffiliated voters, 49 percent to 44 percent, according to the poll. The governor also has higher favorability among unaffiliated voters with 45 percent viewing him favorably compared to 33 percent for Stefanowski. About one-third of unaffiliated voters surveyed said they had no opinion of Stefanowski. In 2018, Stefanowski was cross-endorsed by the Independent Party, an endorsement he failed to get this time around, which earned him about 25,000 votes.
Full story here.