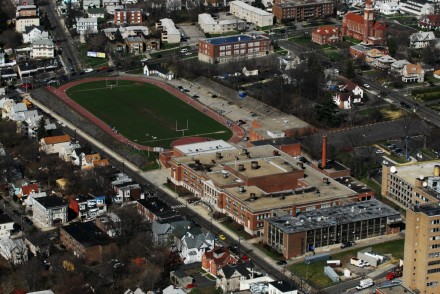 You've heard plenty from me about Harding High School. What do the students think?

My friends at the Regional Youth/Adult Substance Abuse Project www.ryasap.org, which works with a cross-section of community interests, shared an essay by Lavanda M. Wright, a Harding junior and a member of the Principal's Roundtable at Harding, a youth leadership group RYASAP facilitates. Check out what Lavanda, an aspiring journalist, has to say about life inside Harding High.
I can remember being a sixth-grader at Hallen Elementary School and hearing a teacher talk about the problems at Harding High School. I said to myself that I would never attend Warren Harding once I got into high school. And yet, today I regularly sit in classes as a junior enrolled at Harding High School in The International Baccalaureate program.

Today I would consider myself successful for taking advantage of all that is available at Harding regardless of what images others tried to put in my head. I have heard the City of Bridgeport, as well as the Bridgeport Board of Education, say negative things about our school pertaining to the building itself, the rate of student achievement and safety concerns. I can remember one incident where the school was put on a lock down because of a few fights that took place. Although I was worried that someone might be hurt, the administration did a superior job of making sure the students, as well as the staff, were safe and secure. Also, I have seen students congregate in the halls and not attend class. While these are challenges at Harding, there is progress being made.

The most recent study of Warren Harding High School, conducted by Dr. Pedro Noguera and New York University, suggests that the academic and social scene of the school is improving: students believe that they can communicate with some kind of adult (students gave an overall score of 3.10 out of a 4 point scale), and the school's CAPT scores have increased from 2007-2009: in Reading, from 33.7% to 37.5%, and Writing, from 36.9% to 52%. To be a student every day and to hear the negativity of Bridgeport residents, as well as educators, hurts me. No one seems to talk about the education that many students, myself included, have received here.

For the past three years I've seen many positive things take place. For example, the smaller learning communities: Law and Public Service, Medical Magnet, Arts and Technological Studies, Business and International Baccalaureate, have established a setting focused on future college majors as well as job opportunities for students. Also, one of the many learning experiences I've been able to take advantage of at Harding is being a member of the Principal's Roundtable. The Principal's Roundtable is a student group, with students from each grade, that voices the ideas and concerns of their peers to create positive change for the school. I've been a member of the Principal's Roundtable since I was a freshman and it has helped me explore my career options as a journalist as well as allowed me to know what my fellow peers want to see our school become.

Overall, Warren Harding High School has changed me for the better—academically, socially and mentally. I look back at the ten year old who was fearful of that school on Central Avenue to whom I am now: a hardworking junior on my way to becoming the best journalist and clinical psychologist I can be. I am reminded of a famous Japanese proverb that says, "Fall seven times, stand up eight." I believe Harding has taught me, and does itself embody, this proverb of perseverance and the ability to stand with pride.