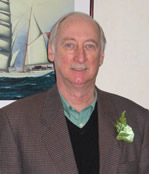 He had the job as a young man from 1976 into 1982 and now Tom Gill is under consideration to be Mayor Joe Ganim's director of economic development, a department that has had two chiefs in seven months sorely in need of stability.

Gill most recently has worked as chief operating officer of the Downtown-based Black Rock Capital, a commercial equipment finance company.
If Gill is hired he brings to the table institutional knowledge of the city and numerous business community relationships for a position that requires savvy to attract state and federal dollars and serve as a daily catalyst to stimulate private investment to grow the tax base. He's not a pol.
In April, David Kooris, the development chief hired by former Mayor Bill Finch, left the city to accept a development position in state government managing a federally funded project addressing shoreline infrastructure improvements including Bridgeport. Ed Lavernoich, the executive director of the quasi-public Bridgeport Economic Development Corporation, agreed to fill in for three months, pending a search for a permanent replacement. As Laveroich returns to BEDCO, once again there is a void at the top.
Ganim's spokesman Av Harris would not confirm Gill's appointment but said "The mayor is looking for a professional with a good grasp on the city and strong relationships who will bring continuity to the office."
Gill was appointed development chief by then Democratic Mayor John Mandanici in 1976. He remained on the job into 1982. Mandanici was defeated by Republican Lenny Paoletta in November 1981. Paoletta appointed Tom Corso to the position. Gill had a background in banking prior to his appointment by Mandanici as development chief.
According to Gill's bio on the Black Rock Capital website, he served as president and chief financial officer and a member of the Board of Directors of Fairfield First Bank & Trust Company from 1986 until the establishment of Black Rock Capital in 1994. In addition to his responsibilities in the overall administration and regulation of the bank, Gill coordinated the re-capitalization of the bank with a private investment group. The bank failed in 1996, after Gill left, according to the Connecticut Department of banking.
Prior to the founding of the Fairfield First Bank & Trust Company, Gill was a First Vice President of the Connecticut Bank & Trust Co. with responsibility for all lending and branch operations in the Stamford area.
Gill has a B.A. in economics from the University of Bridgeport and a graduate degree in banking from the University of Wisconsin.
As development chief for nearly four years, Kooris helped guide construction of the Steel Point redevelopment area of the East Side with Bass Pro Shops as the anchor tenant, shepherded millions in state and federal grants for a planned East Side train station and flood control projects, as well as overseeing the start of the Downtown North rehabilitation projects, all of which will be on the plate of a new development official.