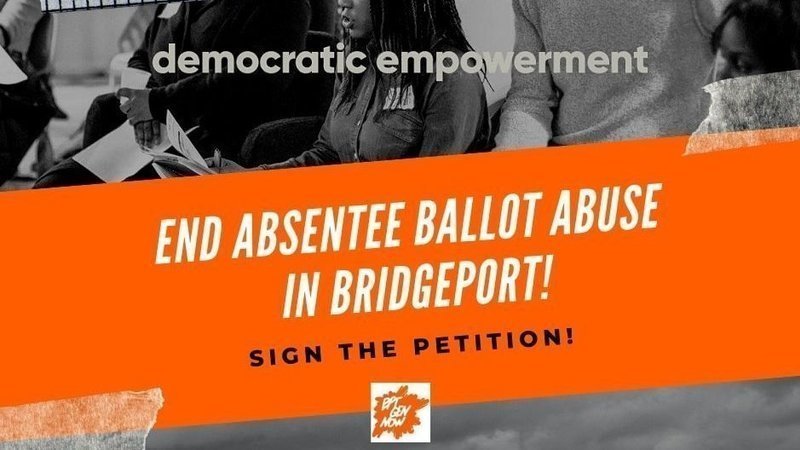 The community action group Bridgeport Generation Now has launched a petition calling on Connecticut Secretary of the State Denise Merrill to order supervision of absentee ballots for the municipal elections. Under state law local registrars have the discretion to conduct supervision at addresses that have requested 20 or more absentee ballots, generally housing projects, assisted living facilities and health care facilities, in a quest to limit voting manipulation.
Elections officials will set a date and time for electors to vote on the premises of their address.
Bridgeport's senior facilities and housing projects are warehouses for political operatives to bank absentee ballots. In a typical mayoral primary more than 1,000 votes will come via absentee voting.
Most states allow some form of early voting. Connecticut does not and relies on excuse-only absentee voting for example health issues and absence from community on voting day.
According to the state election calendar absentee ballots will become available Aug. 20, three weeks from the September 10 primary. The requests for ballots are processed by the Town Clerk's Office via absentee ballot applications, many of them dropped off by campaign operatives.
Presuming a September primary, Mayor Joe Ganim will go into the day with a sizable absentee ballot lead via political operatives supporting his candidacy who know their serial absentee voters.
This places a premium on insurgent challengers to organize their own absentee ballot operation, in some cases poaching votes via phone calls, door knocking and mail pieces. Operatives cannot fill out a ballot on behalf of a voter but they can advocate for a candidate.
Generation Now petition:
We, the undersigned people of Bridgeport, demand that the Office of the Secretary of the State of Connecticut order supervised absentee balloting in our 2019 municipal elections in Bridgeport.

A healthy democracy requires that we the voters have confidence that our elections are a reflection of the will of the people. The Connecticut State Elections Enforcement Commission was formed to ensure the integrity of the electoral process. Yet election rules should be enforced in real time, not just with retroactive fines.

Bridgeport has a long and well-documented history of election interference and fraud, with an alarming number of fines levied by the Secretary of State's office./strong> (1) Secretary Merrill has known this is an issue for at least eight years. In 2011, Secretary of State Denise Merrill said publicly "she'd like to make reforms that could prevent absentee voter fraud." (2) Yet, in May of 2019, in response to calls for supervised absentee balloting from candidates in our special election for state representative, her office said "the state's top election official does not have the authority to order a municipality to conduct supervised absentee balloting." (3) In fact, according to Section 9-3b, Chapter 141 of our state statutes, Secretary Merrill does have the authority. (4)

She should–and must–have the political will to address this problem.

The fines do not work. We see absentee ballot abuse and misuse in every single municipal election. We, the people of Bridgeport, do not have confidence that our elections are fair. The Bridgeport Registrar of Voters refuses to increase supervision of elections, further undermining trust in our democracy. (5) We need the State to step in where our local government has failed.

You must take the power away from election abusers and give it back to the people of Bridgeport!

1. "Absentee Ballot Research," by Adhlere Coffy and Niels Heilmann, www.bptgennow.org/democratic-empowerment 2017

2. "Absentees: Early ballots bring victories, sometimes fraud," Keila Torres Ocasio and Michael P. Mayko, Connecticut Post, October 25, 2011

3. "Bridgeport special election candidates request increased oversight of absentee ballots," Neil Vigdor, Hartford Courant, May 3, 2019

4. Chapter 141, General Provisions, Title 9, Section 9-3b.