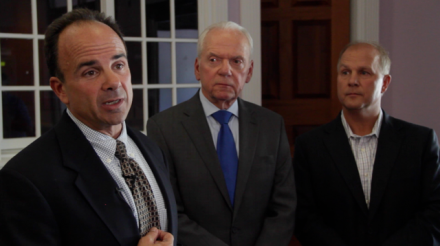 Backed by the retired FBI agent who locked him up, former Mayor Joe Ganim announced on Monday a proposal to create an Office of Public Integrity declaring it "must be independent and nonpartisan. It should have jurisdiction to have oversight of all aspects of Bridgeport's government operations, agencies, and authorities." Ganim said if elected mayor he would create the new agency within 100 days. Mayor Bill Finch's campaign manager responded that the best way to root out corruption is to keep Ganim out of office.

Ganim claimed in a news release the Office of Public Integrity will achieve cost savings for taxpayers uncovering wasteful spending and from reforming and proposing improvements to city purchasing practices.
Ed Adams, the former FBI agent turned private investigator who led the probe against Ganim, is advising Ganim on this proposal.
"This is an important initiative to reassure transparency and integrity in the city of Bridgeport," says Adams in a news release. "I'm more than willing to help Joe in this effort, and in any capacity to help this city. Despite the past, I believe Joe Ganim is the right person to lead Bridgeport into the future."
Mayor Bill Finch's Campaign Manager Maryli Secrest says Finch's plan to provide public integrity is to defeat Ganim.
"Our plan to root out corruption is to keep Joe Ganim out of office," says Secrest. "The fact that, after 16 felony counts and 7 years in prison, Joe Ganim needs a babysitter to ensure he stays out of trouble speaks volumes to why he is still unfit for office."
Spinning away from the federal investigation that led to his 2003 conviction on corruption charges, Ganim claimed the announcement in front of the Morton Government Center was "prompted in part by the recent cover up of crime statistics by the current administration, and the continued refusal to disclose the reevaluation numbers and hidden tax increases for the following calendar year … If this Office of Public Integrity was already in place, the people of Bridgeport would already know what is happening with the secret tax reassessment process underway and learn more about why taxes in Bridgeport are so high."
Ganim did not specify in the news release how the Office of Public Integrity would differentiate from the city's Ethics Commission which has served largely as a toothless tiger since its creation under former Mayor Tom Bucci in 1986.
Ganim said he proposes a three-to-five member Public Integrity Commission and a "credible, professionally experienced individual would be selected to lead the OPI. The City Council, Mayor, and certain other City fiduciary bodies would appoint members to this Commission based upon a City Ordinance to be adopted."
If this is truly to be an independent body, why not have a coalition of the U.S. Attorney's Office and State's Attorney's Office make the appointments?
The Commission will appoint a Director from submitted recommendations from the Mayor and City Council. The duties of the Commission and the Director shall include the following:
● Assure the public's interest is protected in an open, transparent and honest government;
● Protect the rights of citizens and the press to have access to public documents and procedures of government which will help allow for effective oversight;
● Help to ensure transparency in city budgetary processes and the authority to review budgets to ensure compliance with municipal
law and City ordinances;
● Create a means of fairly and thoroughly investigating the nature of complaints coming from any Bridgeport resident as it pertains to corruption and dishonest practices in City government operations ;
● Investigate allegations of public corruption, complaints, or possible illegal actions taken by any department, agency, authority, department managers and/or employees if such actions relate to City operations;
● Present reviews and any evidence of probable corruption or violations of City Code to the Commission for recommendations as to whether violations have occurred and to recommend sanctions;
● Refer possible criminal or civil violations to appropriate City officials, and/or the Connecticut State Police, and/or appropriate federal authorities.
CT Post reporter Brian Lockhart attended the Ganim announcement. More here.