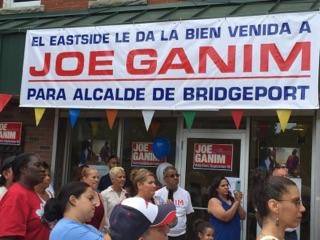 UPDATE: If the number of campaign headquarters matter in a Democratic primary, Joe Ganim's in the lead. He has a presence in the North End (2), East End and now the East Side. Could the South End, West Side and Black Rock be in the future? What's more important, the size of a candidate's ideas or the size of headquarters? Does Joe have more ideas or more HQ?

The former mayor opened a headquarters this weekend on East Main Street in the heart of the Latino voting population. Ganim is trying to reinvent himself as something of a government reformer, in his comeback following his 2003 conviction on federal corruption charges, calling for campaign finance reform on a local level to eliminate special interests, pilfered from New Haven's model program.
Ganim has also proposed a Public Integrity Unit suggesting it could be led by the former federal agent Ed Adams who locked him up, although Joe has shared little safeguard details. Ganim announced he will reveal details of that plan on Monday.
Are you buying any of this?