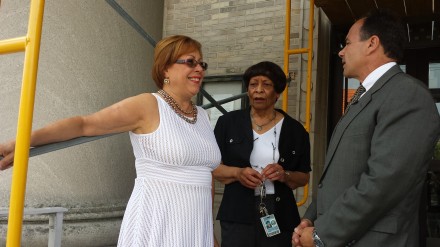 Hoping history repeats itself with incumbent Fleeta Hudson as his city clerk running mate from 1991 and a new addition with Town Clerk Alma Maya, former Mayor Joe Ganim announced Monday afternoon on the steps of City Hall "a diverse ticket" that has "been in battles for the betterment of Bridgeport."

About one week from the July 21 Democratic Town Committee endorsement session at Testo's Restaurant a clearer picture of candidates' respective tickets has started to emerge. The larger looming question: who will be the endorsed candidate for mayor, Ganim or incumbent Bill Finch? Both sides are tightening up support and making efforts to poach alliances among the 90-member town committee.
Forty-six votes are required for the endorsement, but Democratic Town Chair Mario Testa could break a tie if Finch and Ganim are deadlocked at 45. A primary will take place September 16.
Ganim sidestepped the question when asked about the closeness of the convention endorsement, choosing to emphasize his accomplishments as mayor.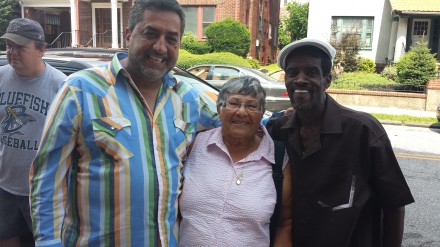 There had been much speculation whether Hudson who ran with Ganim when he was first elected chief executive 24 years ago would seek another four-year term. She has decided to break from supporting Finch saying simply a "change is needed." Some party operatives have whispered questions of Hudson's lucidness for the task after 24 years as city clerk that maintains the records of the City Council. "I have my faculties," Hudson emphasized to OIB.
Finch supporter Lydia Martinez, a city councilor, is seeking the endorsement for city clerk.
Maya successfully ran for town clerk on Finch's ticket in 2007 and 2011, but has decided to back Ganim who's trying to reclaim the job he left following his conviction on federal corruption charges in 2003.
"We know he's going to be the best mayor in a long time and we will be able to do our jobs in a more effective way," Maya told Ganim supporters from the steps of City Hall.
Ganim made note to media members that Maya and Hudson, as part-time officials, were issuing the endorsements after working hours.
Emphasizing that he was "honored to have two woman of stature" on his ticket, Ganim is trying to immunize himself from opponent attacks about the past that forced him from office.