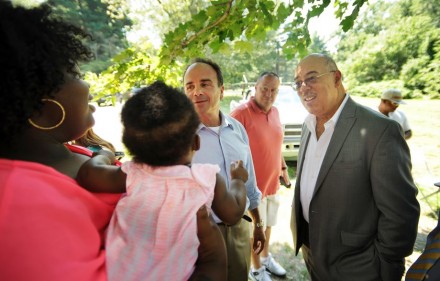 He served as police chief under Joe Ganim, joined him on the campaign trail in Ganim's comeback and is currently on Ganim's transition team. And now Wilbur Chapman is back as "senior adviser for public safety." Translation: Chapman will help Ganim run the Police Department. Chapman will receive $64,000 for the next six months. How long will he stick around? Perhaps long enough to help Ganim reorganize the Police Department and place a check on Police Chief Joe Gaudett.

"I am very pleased to welcome Chief Chapman back to municipal government in Bridgeport, we will all greatly benefit from his wisdom and expertise," said Ganim in a statement.
The retired New York city police official and former commissioner of the New York City Department of Transportation has been in Bridgeport the past couple of weeks on transition team matters involving public safety. Ganim has made it known he would like a change at the top of the city's Police Department but former Mayor Bill Finch threw a wrench into that when he appointed Gaudett to a last-minute five-year contract renewal. How does Ganim work around that in the short team? While Ganim examines his long-term strategy with Gaudett, he leverages his operational authority over the police department with the hiring of Chapman as senior adviser overseeing public safety. So Chapman serves as the bridge between the mayor and Police Department carrying out orders from the mayor's office with which Gaudett must comply.
Ganim says Chapman will review the city's public safety agencies to improve operational efficiency and service delivery of the police, fire, Office of Emergency Management and Communications Administrative Division for the city.
Ganim appointed Chapman as the city's first African American police chief in August 2000. Chapman resigned in 2005 accepting a buyout when John Fabrizi was mayor.
Chapman, 67, joined Ganim on the campaign trail last summer declaring transparency was an important ingredient to public safety. Chapman said then he wasn't interested in returning to Bridgeport, but circumstances have changed with Gaudett receiving another five years.
Chapman has had a checkered career with his share of supporters and critics such as this Village Voice story here.
The New York Times wrote a piece about Chapman joining the Bridgeport department in 2000 here.
Short bio about Chapman from city website highlighting police history.
Wilbur L. Chapman. He is a former Commissioner for the New York City Department of Transportation, appointed by Mayor Rudolph W. Giuliani on June 19, 1998. Prior to that appointment, Chief Chapman served as Chief of Patrol, the Police Department's largest bureau, for 29 years. His duties included command of all uniform and civilian personnel assigned to the Patrol Services, Special Operations Division and the Resource Management Section.

Chief Chapman joined the New York City Police Department in March 1969 and began his career as a patrolman in the 23rd precinct in Manhattan. During his tenure he also worked in the 26th precinct (Manhattan), the Personnel Bureau, and Patrol Borough Queens. He also served as the Executive Officer in the Police Commissioner's office and the Commanding Officer of the 81st and 113th precincts, the Applicant Processing Division, the 12th Division of Patrol Borough Brooklyn South and the Recruitment Section.

Born and raised in Bedford Stuyvesant, Brooklyn, Chief Chapman graduated from Newtown High School in Elmhurst and earned his Bachelor of Arts degree in Political Science from Manhattan College. He is also a graduate of the Police Management Institute at Columbia University. Chapman later moved to Queens with his family. He has two daughters, Leslie and Lisa, and has been an avid Jazz musician for 38 years.
Ganim also announced on Monday that former city councilor Angel DePara has been appointed special projects coordinator serving under Chief Administrative Officer John Gomes and Kelly Perez, veteran public school teacher, has been hired as administrative assistant in the mayor's office.