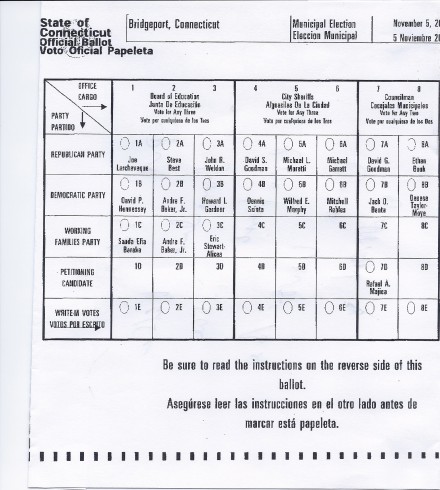 On November 5th city voters will decide the future makeup of the City Council and Board of Education. Will the citywide turnout hit 10 percent? It's been relatively quiet since September 10 when all Democratic-endorsed candidates were kneecapped by primary challengers. So what can we expect in the weeks leading up to election day? Can Republicans tap into the general voter anger and outmaneuver the Connecticut Working Families party candidates to win the two available minority party seats on the school board? If not, the little WFP will have coalition control of the school board. Will Republicans for City Council in the 130th District Rick Torres and Phil Blagys take out Democratic incumbents Sue Brannelly and Steve Stafstrom? Any surprises out there? Check out the full field of candidates:

Board of Education:
Democrats Andre Baker, Howard Gardner, David Hennessey; Republicans Joe Larcheveque, Stephen Best and John Weldon; Working Families Party, Sauda Baraka, Andre Baker and Eric Stewart-Alicea.
City Sheriff:
Democrats Dennis Scinto, Willie Murphy and Mitch Robles; Republicans David Goodman, Michael Moretti and Michael Garrett.
City Council:
130th District, Democrats Sue Brannelly and Steve Stafstrom; Republicans Rick Torres and Phil Blagys.
131st District, Democrats Jack Banta and Denese Taylor-Moye; Republicans David Goodman and Ethan Book; petitioning candidate Rafael Mojica.
132nd District, Democrats Bob Halstead and Trish Swain; Republicans Corey Gordon and Jeffrey Falberg.
133rd District, Democrats Tom McCarthy and Howard Austin; Republicans Jose Morales and Brian Banacowski.
134th District, Democrats Michelle Lyons and AmyMarie Vizzo-Paniccia; Republicans Yolanda Rodriguez and Ruben Coriano.
135th District, Democrats Mary McBride-Lee and Richard Salter; Republicans Kathy Torres and James Keyser; petitioning candidate Mary McBride-Lee.
136th District, Democrats Richard DeJesus and Alfred Castillo; Republicans Philip Flynn and Anthony Pizighelli.
137th District, Democrats Lydia Martinez and Milta Feliciano; Republicans Luis Colon and Ramona Marquez; petitioning candidate Karen Jackson.
138th District, Democrats Richard Paoletto and Mike Marella; Republicans Anthony D'Amato and Quentin Dreher.
139th District, Democrats James Holloway and Eneida Martinez-Walker; Republicans Cecil Young and Fred Williamson.