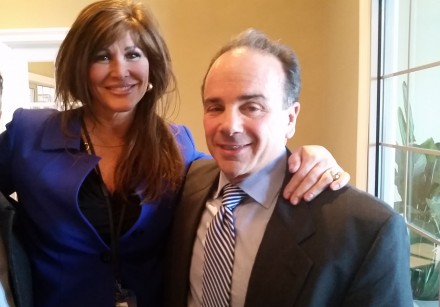 For several years Lisa Miro has been something of a fixture in City Hall working in both the mayoral administrations of Bill Finch and Joe Ganim, most recently an $18 per hour seasonal employee for the city's after-school Lighthouse program. Miro worked full time but, she says, not accorded the requisite wages and benefits. Former Mayor Tom Bucci, a labor law specialist, says she was terminated from her job out of retaliation after a grievance was filed. Miro says the reason cited by the city was her seasonal responsibilities had ended.

"The union filed a grievance 2 weeks ago and then Bucci served my lawsuit for back pay and benefits for working in a union position passed off as seasonal," she texted OIB after breaking news of her termination in the OIB comments section under an item about Ganim's Thursday night fundraiser for statewide office. She had been a Ganim supporter, volunteering for various campaign functions.
In the OIB comments section she wrote:
Hello OIB Patrons … yes, it's me … a newly FIRED COB (city of Bridgeport) employee who did nothing but spend full time weeks working for Joe, endless hours of fundraising, not just recently, but since his FIRST phone call to me before he ran for mayor. I listened to his pitch this evening (via my home computer) and I am actually perplexed at the verbiage set forth. No disrespect to his followers, as I believed in him and stood by his side in hopes of helping the approximate 140k people who reside in this great city.

He says in video, "State of CT in need of change, unite with a vision, straighten out the mess, get house in order, and of course, the budget. Big population cities are the engine to drive" … really? Job creation? Really? HMMM … let's think about this … let's talk about Bridgeport's vision on how to balance the budget and ultimately be the boiler plate to fix this beautiful state. Unfortunately, I can't elaborate on what I know (due to me being fired today after standing up for what is right). but I will say this, I've never heard the mayor acknowledge (Public Facilities Director) John Ricci at any other fundraiser, not once, but twice. Ironically, it was Ricci who met me at Labor Relations TODAY and fired me. I didn't want to leave my union full-time position to be a typist/secretary to (Richard) Paoletto at the WPCA. After filing a lawsuit a week ago (only to get what was promised and what the position demanded), and union finally filed a grievance, I was FIRED. Again, I can't elaborate, but I am flabbergasted … I'm in shock. I worked so hard to help Tammy (Papa) with her Youth Services Dept. and made good things happen. My dedication meant NOTHING. I literally begged all of them to help me from being at risk of losing my home. NADA … only what I aforementioned … I have not stopped crying … I only did good for the COB.
Bucci told the CT Post "The city terminated her employment claiming her three month seasonal (position) had come to an end. Why did they wait 13 months and on the heels of a complaint being filed? It's obvious retaliation."