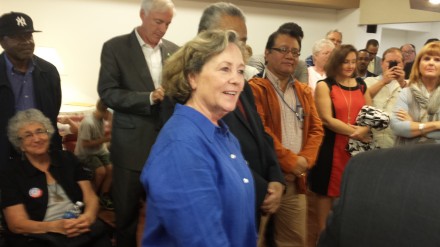 Addressing more than 100 supporters both old and new at her Downtown campaign headquarters Wednesday night, Mary-Jane Foster kicked off a five-week compressed general election cycle one day after an endorsement from Mayor Bill Finch declaring "this is the most important election" in city history as she hopes to build an infrastructure of support to derail Democratic nominee Joe Ganim's historic comeback train.

This bizarre, surreal 2015 mayoral election that not only has statewide attention but also garnering national news, is historic in so many ways. Finch became the city's first incumbent mayor to be knocked off in a primary, Ganim is seeking historic redemption following his 2003 conviction on corruption charges and Foster is trying to become a historic woman running as a petitioning candidate. Bridgeport's 52 mayors have all been males, except for Mary Moran who won the mayoralty in 1989 running as a Republican. She was defeated by 32-year-old Democrat Joe Ganim two years later.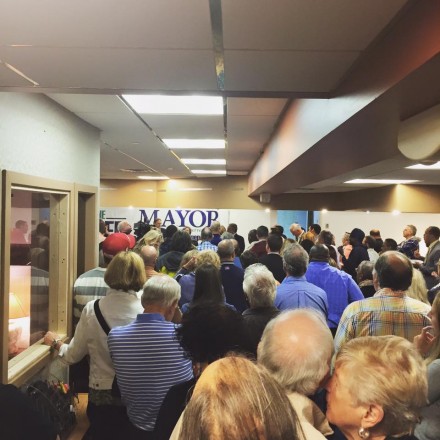 Political activist Carmen Colon who had supported Finch but has had a long-term friendship with Foster told the crowd in Foster "We have someone who will protect our children." The crowd cheered as Colon urged them to elect a woman to the mayoralty.
Former school board president Max Medina warmed up the crowd thanking Finch for "a moment in statesmanship this city has rarely seen."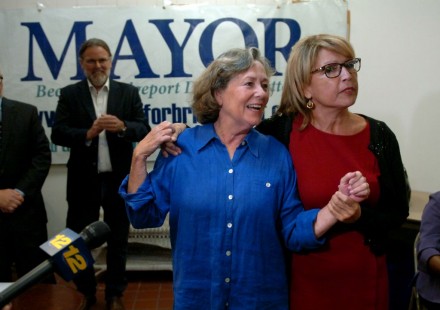 The mayor appeared in good spirits considering a tragic two-week meltdown in which he lost the Democratic primary to Ganim and then received word his political operatives had failed to meet a filing deadline for him to appear on the Job Creation party designation line in case of a primary loss.
This campaign has had many whiplash moments. Foster, who finished third in the primary, had announced her exit from the race and then reversed field when she learned Finch had no ballot spot, reemerging as a petitioning candidate to take on Ganim. Finch endorsed Foster Tuesday afternoon.
Wednesday evening was devoted to whipping up support and Finch once again urged the crowd to "Work like hell to elect Mary-Jane Foster."
In the cynical world of city politics, Ganim political operatives as well as Republican nominee Enrique Torres have speculated about what deal was cut for Finch to support Foster. Finch and Foster scoffed at the notion. Finch said he asked for nothing other than Foster embracing his green technology initiatives and continue progress at the Steel Point redevelopment area of the East Side. Foster added the city has suffered far too long from poor political deal making.
Foster told the crowd "I learned never to lie and never make a promise you cannot keep" urging them to help her bring a victory home.
Foster's veracity reference may well have been a contrast to Ganim at whose sentencing Judge Janet Arterton announced in court Ganim had lied under oath during his 2003 trial. As a result she enhanced his federal sentencing.
More coverage from CT Post here.