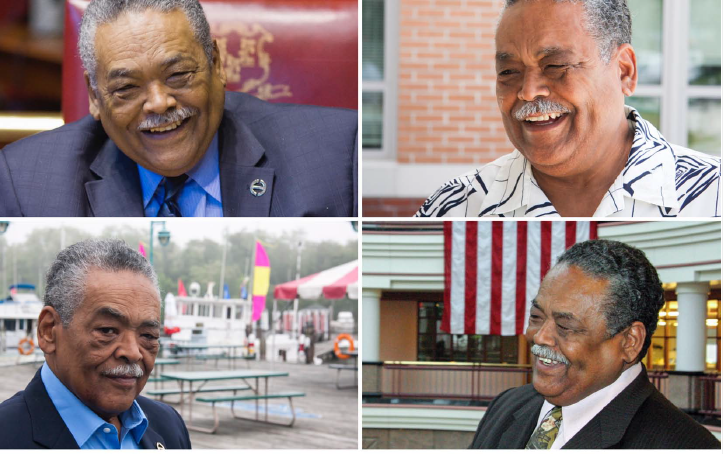 Former State Senator Ed Gomes, 84, the loyal, scrappy steel worker and U.S Army veteran with an engaging crocodile smile whose political impact was felt across the state of Connecticut, died early Tuesday morning from injuries sustained in a violent two-car crash Dec. 13.
Gomes, according to police, was driving a Ford Fusion approaching the intersection at Boston and Noble Avenue. Gomes attempted to turn left into the Kentucky Fried Chicken parking lot when his vehicle collided with an Acura traveling the far right westbound lane of Boston Avenue. The driver of the Acura, 19-year-old Clive Henry of Bridgeport, sustained non-life threatening injuries.
The impact of the collision caused significant damage to the vehicles and injuries to both operators, according to Captain Kevin Gilleran. There were no passengers in either vehicle.
Gomes passed away in Bridgeport Hospital.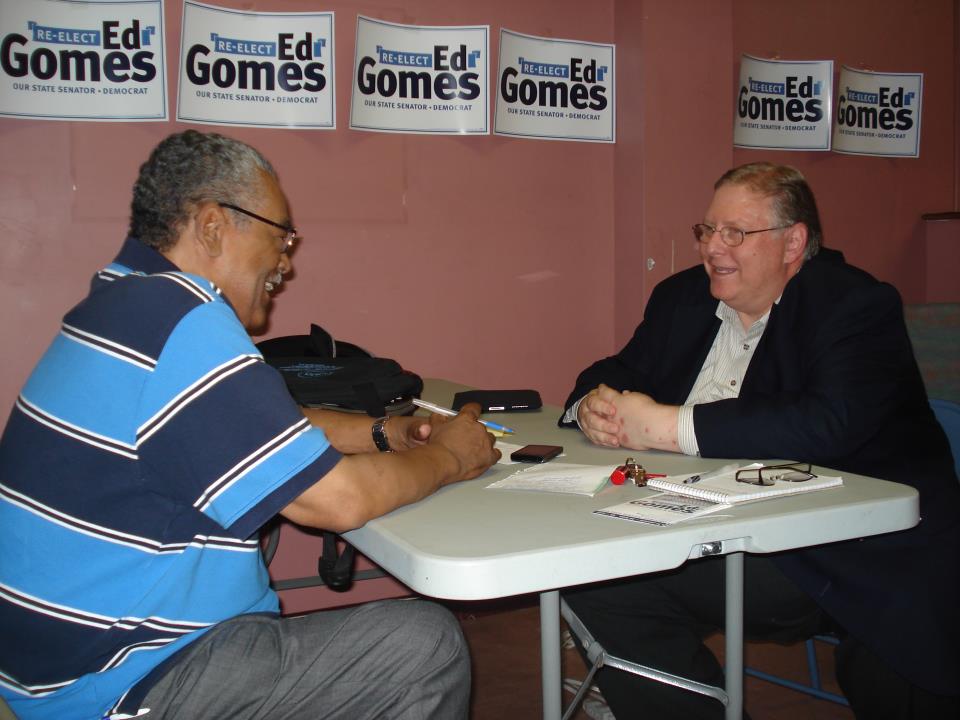 Gomes, a former Democratic member of the City Council, served two tenures in the state's upper chamber, from 2005 to 2013 and then again from 2015 to 2018 when he announced his retirement.
Gomes, of Cape Verdean ancestry, was born in New Bedford, Massachusetts in 1936. His family moved to Bridgeport in 1944. He enlisted in the Army in 1958 and was initially stationed in segregated Virginia prior to his service in South Korea.
In politics and in life Gomes was as genuine as they come, he feared very little while stepping up for friends and constituents in need. If he liked you he told you, if he didn't like you he told you. Ed Gomes didn't know any other way.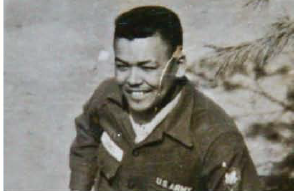 And if anyone dare challenge union-tough Gomes to a fistfight, he'd be ready to roll.
"If I'm in a fight with a bear," he'd say, "help the bear, don't help me."
There was the night in the late 1980s after a City Council meeting, a political operative was digging under councilor Gomes' skin for no real reason and wouldn't let it go. Gomes said we can finish this here or outside. They went outside. Gomes grabbed the guy by the front of his shirt and heaved him atop the dumpster sitting in the City Hall parking lot. "That's where you belong," Gomes said, "In the garbage." And that was that.
I am Mr. Ed? Well, Gomes was as strong as a horse and a horse that could be counted on to blowtorch the barricades of insider politics.
Until 2002 Connecticut had no direct primary system. If you were an outsider anathema to the political establishment you were a slave to the state's delegate process. That meant without enough support at the party convention you were screwed to make the ballot.
Gomes became a plaintiff to challenge the restrictive process in federal court. Judge Peter Dorsey sided with the Connecticut Citizen Action Group and Common Cause. The case became established law for state candidates to petition their way onto the ballot. It paved the way for outsiders to tackle entrenched politicians, clearing the smoke from backroom deals.
A pol's word meant everything to Gomes. Cross him and he had a long memory. His word in return was just as meaningful.
In 2014, Marilyn Moore took on the political organization trumpeting a reform theme that included breaking conflicts of interest on the City Council. Moore decried, it's impossible for city employee City Council members to serve as a check on the executive branch that controls their paychecks. She promised to fix a quirk in state law that allowed it. Gomes was by the side of his former legislative aide with whom he had a long friendship. Moore defeated incumbent Anthony Musto in a Democratic primary on her way to a general election win.
Moore's bill received some pushback even from union members. Gomes simply said "I gave my word and it's the right thing to do."
The bill passed the Senate but languished in the State House. Still, Moore and Gomes had delivered on their promise to pass it in the upper chamber.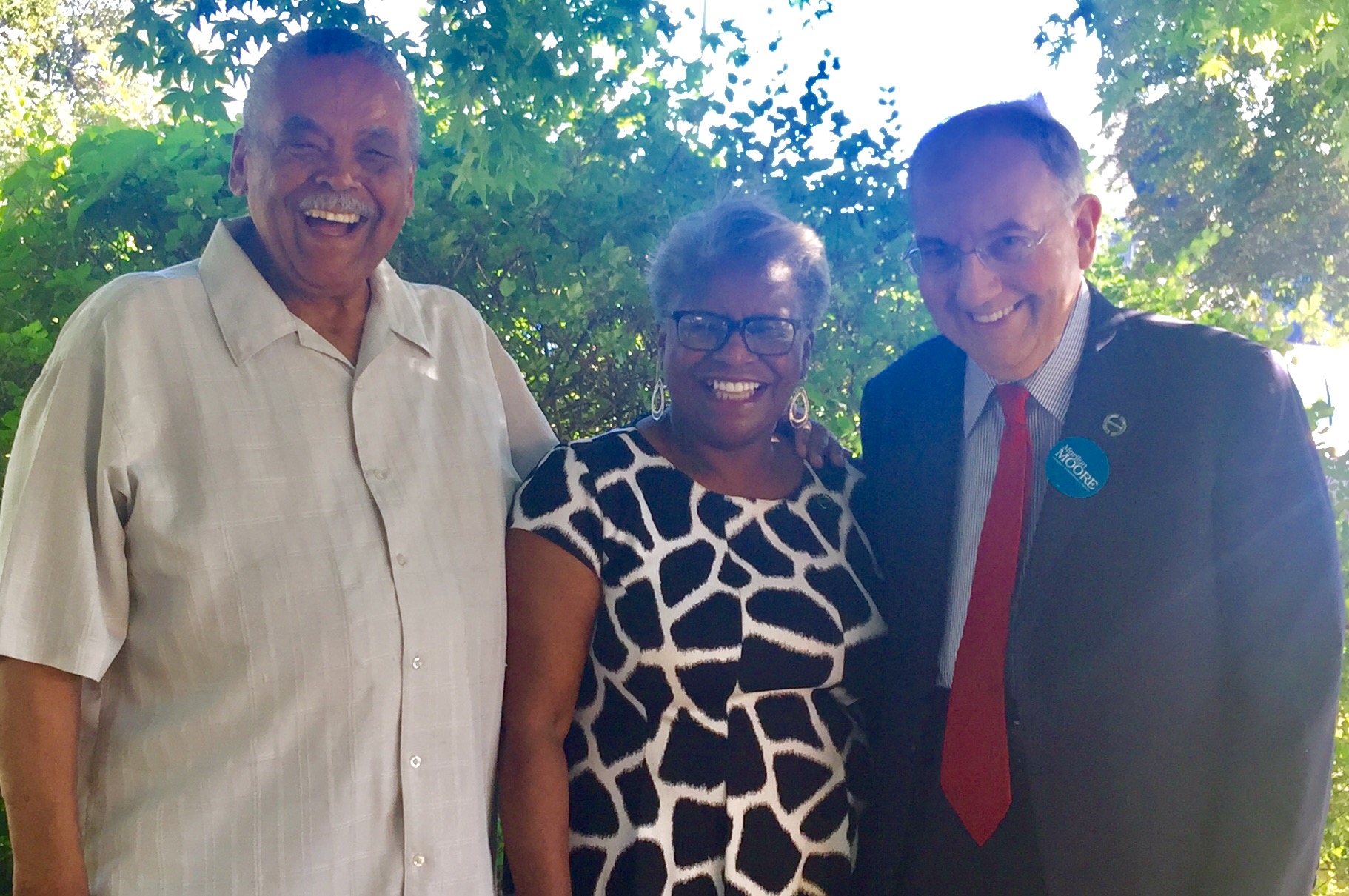 His primary loss in 2012 to State Rep. Andres Ayala, with Ernie Newton placing second, left a sour taste, not against his competitors but over a controversial redistricting of his senate turf while he was convalescing from heart surgery in the hospital. Senate leadership had carved his voter base in the African American-strong Wilbur Cross precinct into the district of then-incumbent Anthony Musto to protect Musto against a strong Republican challenger in the adjoining city-suburban district. That move would backfire. In 2014 Moore leveraged the Wilbur Cross vote to upset Musto in a Democratic primary.
Gomes made a remarkable return to the State Senate in 2015. A special election was required when Ayala was appointed commissioner of the State Department of Motor Vehicles by Governor Dan Malloy.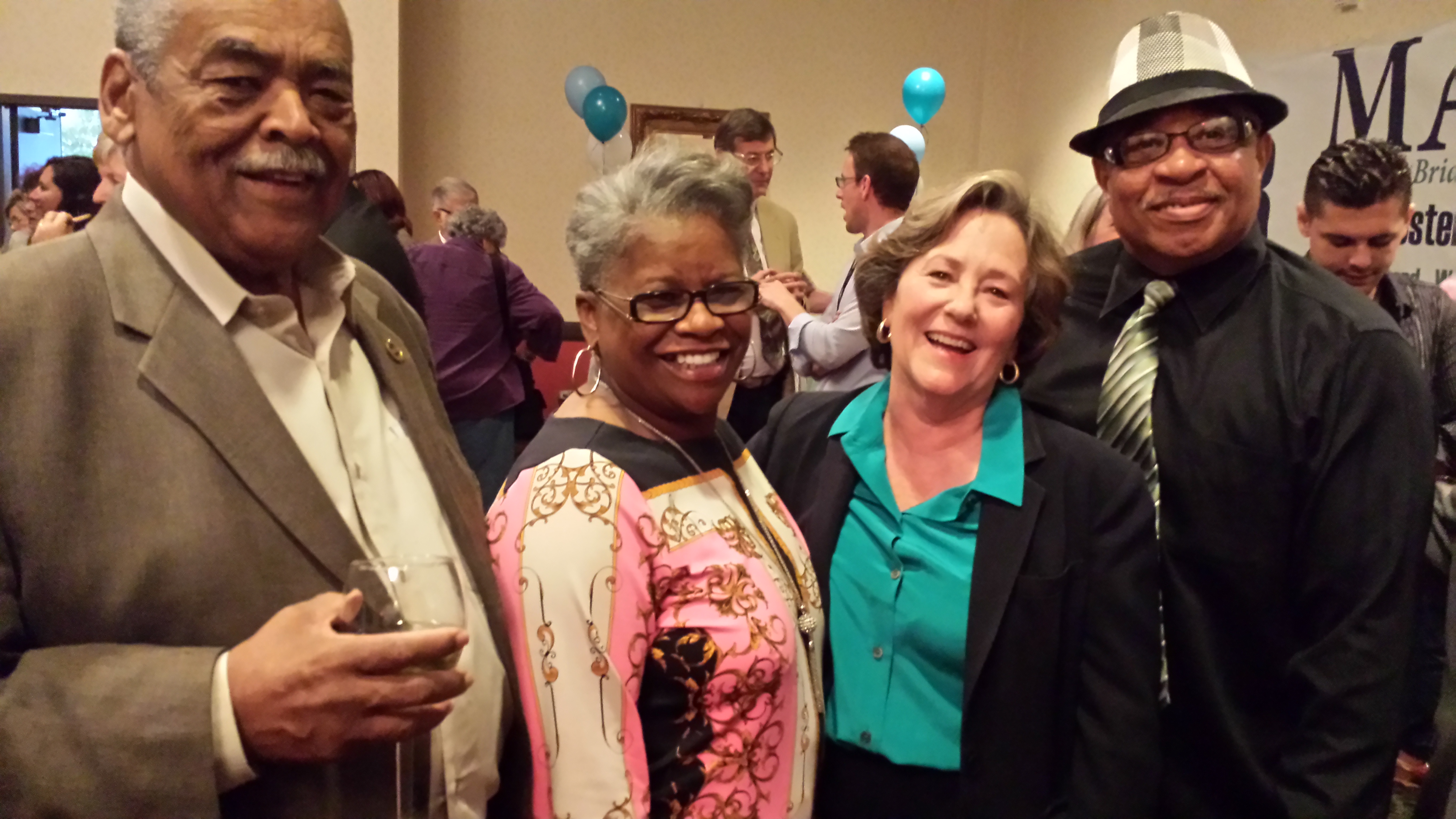 Gomes easily reclaimed the State Senate seat he lost in 2012 in a historic win running on the Connecticut Working Families Party line, over Democratic-endorsed Ricky DeJesus, then a city councilor and petitioning candidate Ken Moales, then a member of the Board of Education.
Gomes, a no-nonsense retired steelworker who worked decades as a union steward and negotiator, told OIB in 2018 that he was ready to retire from the State Senate on his own terms. "The problem so many people have in this business is that they don't know when to leave. I'll be 82, a little long in the tooth, but happy for my years of public service. It's time to go out on my own terms."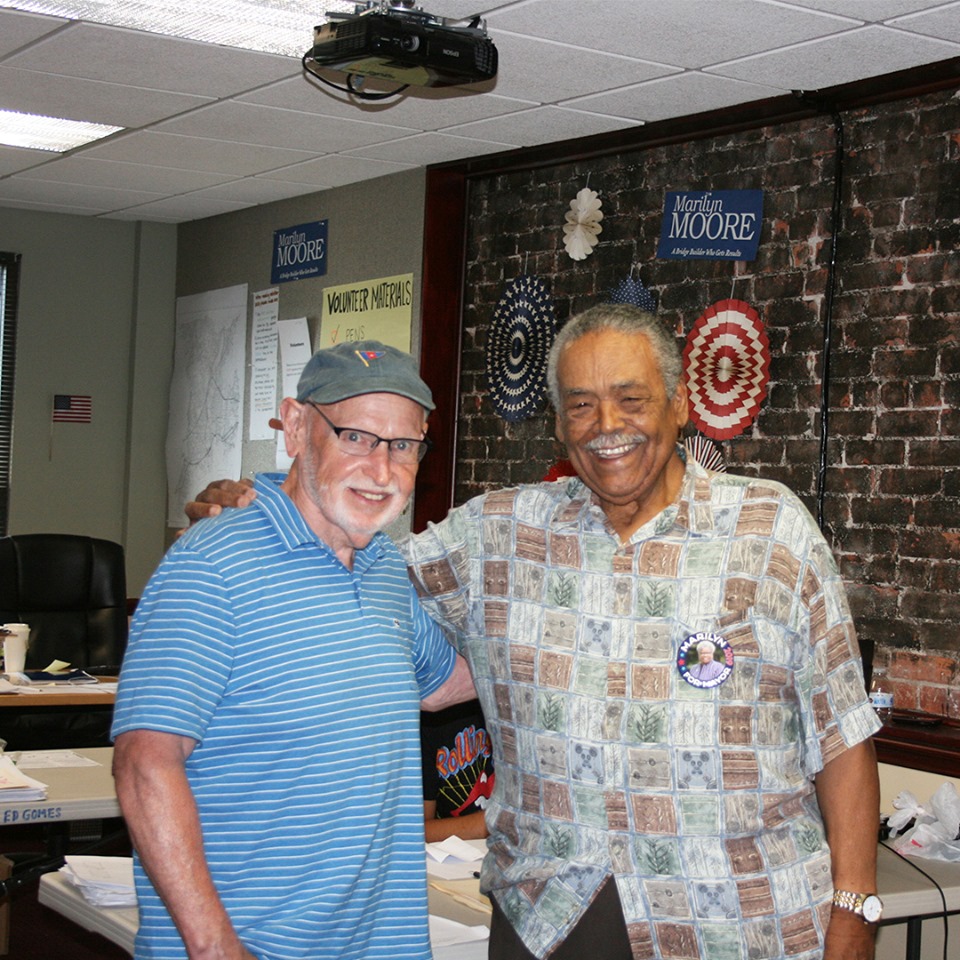 See more on Ed's life prepared by his legislative aide Virginia Monteiro and Bridgeport native and friend Dr. Frank Gerratana, Ed's book 30a.
Ed Gomes bio: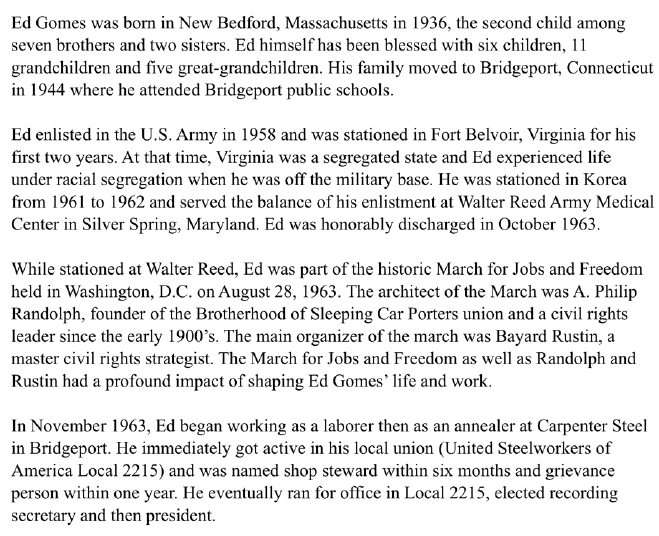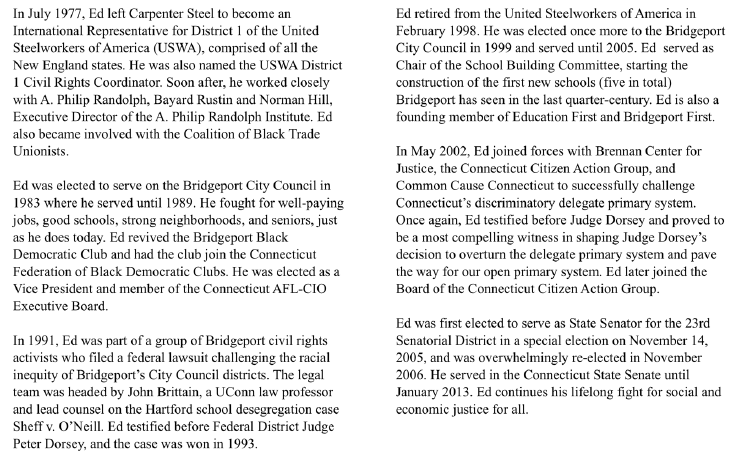 Note: Gomes returned to the State Senate after winning a special election in 2015. He retired on his own terms in 2018.