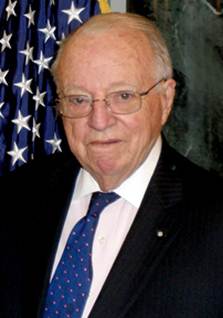 Sacred Heart University President John Petillo issued this announcement on Tuesday to the SHU community:
It is with sadness that I tell you that former Sacred Heart University President Thomas Patrick Melady passed away yesterday at the age of 86. He served as president here from 1976 to 1986 and was named President Emeritus when he moved on. His service came during a time of great change for Sacred Heart as the University began to move from a start-up college to an acclaimed regional University. His vision played an important role in Sacred Heart becoming not only the nationally known University it is today, but also in our reputation as a special place where members of the community are treated with respect and dignity.


Dr. Melady made his mark outside the University as well–both before and after his tenure here. He served as an American ambassador under three presidents and as a sub-cabinet officer for a fourth and was always active in foreign affairs and international relations. Under President Richard M. Nixon, he was Ambassador to Burundi (1969-72), senior adviser, US delegation to the UN General Assembly (1970), and Ambassador to Uganda (1972-73). Under Presidents George H. W. Bush and Bill Clinton, he was Ambassador to the Holy See (1989-93). Under President Ronald Reagan, he served as assistant secretary for Post-Secondary Education (1981-82). Since 2002, he had served as senior diplomat in residence at The Institute of World Politics in Washington, D.C.

Sacred Heart will hold a memorial mass for Dr. Melady next Tuesday, January 14, at 2 p.m. in the Chapel of the Holy Spirit. In the meantime, our thoughts and prayers are with Dr. Melady's family, friends and colleagues and especially with those in our community who knew him.