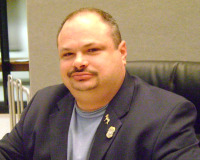 Former city employee Richard Paoletto, whose son Anthony currently occupies the City Council seat his father maintained for more than a decade, is back working for the Water Pollution Control Authority, according to a report by CT Post reporter Dan Tepfer.
A former councilman forced to resign and then to retire from a city post following two sexual harassment claims has been rehired by the city's Water Pollution Control Agency.

The mayor's office confirmed Monday that Richard Paoletto has been hired as a construction inspector earning $59,763 for the WPCA.

Paoletto, a Democrat who was first elected to serve the 138th District in 2001, was hired as a Bridgeport code inspector in 1993 and by 2009 had worked his way up to deputy director of housing and commercial code enforcement.
Full story here.