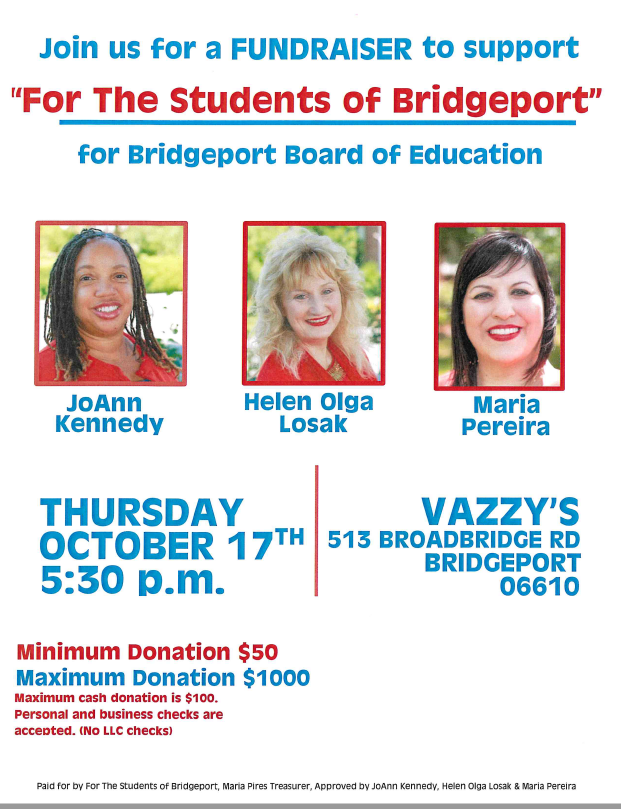 Unimpressed with the candidates for Board of Education, be it Democrat, Republican or Working Families Party, Maria Pereira, also a Democratic nominee for City Council in the Upper East Side 138th District, has assembled a slate of school board candidates for November running on "For The People" line, a new minor party that must garner one percent of the vote in the general election to maintain its status.
Bridgeport's school board operates under state-mandated minority party rules so the slate of Pereira, JoAnn Kennedy and Helen Losak would need to run ahead of the Republicans or WFP candidates to win citywide election. They have formed a political action committee "For The Students of Bridgeport."
Pereira is promoting a fundraiser for the school board slate Oct. 17 at Vazzy's.
If incumbent Pereira is successful in her school board run and City Council effort, she'd have to make a choice. The City Charter prohibits serving both.
Pereira put a lot of work into her primary victory for City Council so this could simply be Pereira's effort to deliver victories for her running mates both of whom, like Pereira, are not wedded to the Democratic political establishment and are underwhelmed by Republican and WFP candidates for school board.
In 2009 Pereira and Sauda Baraka won school board seats on the WFP line. Pereira had a falling-out with the party's state leadership. In 2015, she returned to the Board of Education running on the Democratic line of Mayor Joe Ganim. She quickly parted ways with Ganim over school board issues.