Education: Ganim's first year back. On the 2015 campaign trail Joe Ganim uttered the usual stuff about education: fully fund schools, create a 21st century climate, modernize the infrastructure, yadda, yadda, yadda. What he did not expect, however, was appointing one-third of the nine-member Board of Education the second half of his first year back in office.

It started with Annette Segarra-Negron, replacing Dave Hennessey; Rafael Fonseca in place of Andre Baker; then John Weldon to fill the vacancy of Kevin McSpirit. And that has largely been Ganim's influence on education policy. Along the way the acting school chief Fran Rabinowitz, against Ganim's wishes, announced her departure for the end of December because she could not deal with what she described as the dysfunction of the school board leading Connecticut's most populous city.
The fly in the Democratic Party punch bowl for Ganim and others is board member Maria Pereira, who ran on Ganim's 2015 slate then quickly had a falling out with him, who's been accorded way too much power by opponents incapable of parsing her passion.
Get a load of this:
— Ganim, Rabinowitz and others reached out to Governor Dan Malloy and the state Board of Education to seize control of city schools. It was rejected.
— When that did not happen, Rabinowitz announced her resignation asserting it was all because of Pereira's demagoguery.
— Board of Education Chair Dennis Bradley who ran with and had a short campaign alliance with Pereira announced he'd boycott regular school board meetings because she thwarted school progress. He demanded her resignation. She refused.
One person, one vote assigned all this attention?
The way education is structured in Bridgeport, the mayor has no day-to-day authority over the system. Yes, the mayor submits a budget approved by the City Council that is meaningful for financial support, but once that's done a mayor relies on force of will and school board relationships to influence decisions.
Mayors tend to broad stroke school progress focused on construction projects approved by the school board heavily financed by the state. It's been this way for a very long time.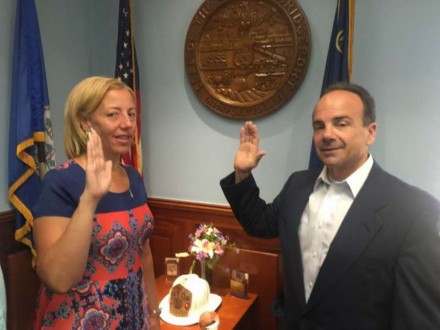 Ganim's predecessor Bill Finch did weigh in more than others. For the first three years of his mayoralty Finch projected the typical voice of an incumbent, we're doing just great educationally, but underneath the political sheets Finch conspired with the local school board for a clandestine state intervention. And then it happened on the weekend of July 4th, 2011, the school board threw in the towel, disbanded itself for a presumptive state takeover. The state education system appointed a new board and education reformer Paul Vallas to lead local schools. Finch turned the move into a cause asserting the school system was broken and required state control.
Local control advocates such as Pereira and retired Superior Court Judge Carmen Lopez screamed cabal. (Isn't that a Bridgeport rite of political passage?) A lawsuit was filed. Eventually the Connecticut Supreme Court ruled the action was illegal. Local control was restored. Finch was elected to another four-year term in 2011, but the failed state takeover started a series of education gaffes for Finch that led to growing organized opposition.
The next year in 2012 Finch placed a city charter reform question on the ballot to grant him the authority to replace an elected body with a mayoral-appointed Board of Education. It was rejected by voters.
When Ganim and Rabinowitz reached out to the state for control support it was rejected. There's no appetite at this time in light of the botched 2011 takeover.
In lieu of a state takeover Ganim has pretty much limited his education influence to filling vacancies if the board does not act within 30 days, something that was challenged in court by Pereira.
Superior Court Judge Barbara Bellis ruled in favor of the mayor. Pereira has appealed the decision. So while Ganim has not exerted day-to-day school board control he has influenced the makeup in his first year.
The larger question is what happens in 2017? Will a school board bloc emerge to move past the Pereira distraction on behalf of school progress? Also, it is an election year that could once again alter the board's makeup. Ganim and Democratic Town Chair Mario Testa will have a say about endorsed Democratic candidates.
Will Pereira, who is not up for reelection, put up her own citywide challenge slate?