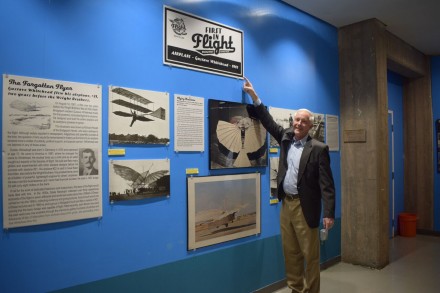 Former Mayor Bill Finch has started his new position as executive director of the Discovery Museum where he will blend his technical skills and fundraising talents "to help the museum grow and thrive today, tomorrow, and for generations to come."

Before and during his eight years as mayor Finch immersed himself in books be it technology, architecture, science and history. As mayor he championed Bridgeport aviation pioneer Gustave Whitehead as first in flight. The Discovery Museum features an exhibit devoted to Whitehead.
More on this in a Discovery Museum news release:
Today, the Discovery Museum announced that former Bridgeport Mayor and State Senator Bill Finch has officially started in his new role as executive director. The news comes as the museum celebrates its 60th anniversary.

"I've always been a big fan of the Discovery Museum," said Bill Finch, who grew up nearby, visited the museum as a kid and has since taken all four of his sons there. "That plays a major role in my excitement for this opportunity to help the museum grow and thrive today, tomorrow, and for generations to come."

After an extensive search process for a new executive director–during which the Discovery Museum board emphasized that community partnerships with local institutions and fundraising experience were key factors–the green light to hire Finch was given to Chairman Vos.

"Bill's a great fit, and we're excited to have him officially on board," said Tom Vos, Chairman of the Discovery Museum's Board of Directors. "He has extensive experience promoting science, technology, and engineering education programs across the state. His significant relationships and fundraising experience will help secure the resources necessary to give more kids access to exciting, hands-on learning opportunities, that in turn, help prepare them in subject areas critical to obtaining tomorrow's jobs."

Vos also noted that the Discovery Museum is an asset for the community because it helps kids to think for themselves by learning to ask questions, look for supporting evidence, and gain self-confidence.

"It's great to see young minds experience 'a-ha moments' when it suddenly it dawns on them that they are good at what they're doing. We all can remember such moments from our childhood. For many of the kids that the Discovery Museum serves, these 'a-ha moments' happen at the Discovery Museum."

The Discovery Museum (located at 4450 Park Avenue, Bridgeport, Conn.) was founded in 1958 and opened to the public in 1962. It's a mission-driven organization that aims to inspire, wonders and ignites creativity through the exploration of science, technology, engineering, and mathematics. The museum does this through interactive experiences, unique exhibits, and dynamic learning programs, including the Great Rocket Challenge (i.e., where students compete in a design challenge to bid on a National Aeronautics and Space Administration (NASA) contract).

Bill Finch currently serves as a climate fellow at the Rockefeller Institute of Government where he is aiding in the expansion of the organization's energy and environment portfolio. Beforehand, he served as the acting Director of the New York State Thruway Authority and Canal Corporation where he played a key leadership role in the construction and launch of New York's new Tappan Zee ("Mario Cuomo") Bridge.

Before leading the Thruway Authority and Canal Corporation, he served as mayor of Connecticut's largest city, Bridgeport, from 2007 until 2015. During his time as mayor, he led the charge for the city to increase access to pre-k, open new schools with a focus on science and technology education, and increase the availability of high-quality afterschool programs for hundreds of kids. He also served as co-chair for the U.S. Conference of Mayors Climate Protection Task Force.

"Preparing our kids to fill tomorrow's jobs makes science and technology-focused learning more important today than ever before," said Finch. "A majority of jobs in the next decade, and beyond, will require engineering, science, or technical expertise. That's why increasing access to and the amount of resources that the Discovery Museum can offer our kids, and grandkids, is key to their success in an increasingly competitive economy."

In addition to serving as executive director, Finch will retain his job as a visiting climate fellow at the Rockefeller Institute of Government in Albany, New York.