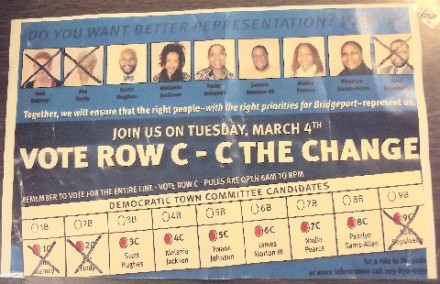 Update: Bridgeport Working Families Party Chair Maria Pereira, a registered Democrat, is passionate about her political work. So passionate, she's handing out cut cards to her voter contacts in front of Hooker School precinct crossing out the names of town committee candidates she had supported including Pat Fardy and Ann Barney in the Upper East Side 138th District. Maria's upset about some things Pat's husband Andy wrote about her on OIB. Talk about keeping score! Maria has shown organizational strength in her home district.

Turnout in the city is at a snail's pace, with Black Rock, as usual, leading the turnout. Roughly 700 absentee ballots have been cast for today's Democratic Town Committee primaries in seven districts. So what? That means in a few districts more votes could be decided in absentia than actually show to the polls. Can you blame pols for banking votes on a cold winter's day that will be hard pressed to hit 10 of the vote? Nah! (How many times have you voted?)
This is, after all, the land of town committee primaries–the spring training of big league events–that produce 90 members for the right to endorse candidates for public office.
When roughly 120 candidates combined appear on respective district ballots it will take a long time to sort out the results, so this will be a long day's journey into night for elections officials after polls close at 8 p.m.
Electors in the seven districts respectively can vote for up to nine candidates on the two lines. Not sure where you vote? Call the Registrar's Office at 203-576-7281. Polling Precincts:
130th District: Aquaculture School, St. Ann's Gymnasium
132nd District: Central and Bassick High Schools
133rd: Central and Blackham schools
135th: Wilbur Cross, Hallen School, Park City Magnet
136th: Beardsley School, Read Middle, Geraldine Johnson School
137th: Marin School, Barnum School.
138th: Thomas Hooker School, JFK Campus
The candidate line-up below:
130th District: Daniel Roach, JoAnn Manzo, Michael Meehan, Melissa Henton, Anne Larcheveque, Thomas Mulligan, Jr., Joy Cline, John McCarthy, Jr., Eric Amado, Jr.
Challenge slate: Hector Diaz, Edna Garcia, Lee Samowitz, Rob Sullivan, James Fox, Robert Foley, David King, Joel Gonzalez, Tyree Gousse.
132nd District: Michael Freddino, Mary Evette Brantley, Carol Cocco, Anthony Lancia, Sr., John Olson, Lisa Parziale, Elaine Pivirotto, Joan Thornton, Reginald Walker.
Challenge slate:: Robert Halstead, Michael Jacques, Howard Gardner, Patricia Swain, Arlene Walsh, Stephon Wynter, Jessica Materna, Pierre Page Jr, Angel Echevarria.
133rd District: Thomas McCarthy, Howard Austin, Sr., Joseph Hatrick, Sr., Joseph Moura, Peretz Robinson, Abel Chaparro, Jeanette Herron, Albertina Baptista, Vincent DiPalma.
Challenge slate: Jessica Allen, Josh Kristy, Louis Innacell, Gail Janensch, Mahlon Goma, Ann Martin, Earl King Jr., Eugene Gailliard.
135th District: Wilfred Murphy, Diane Richards, Warren Blunt, Audrey Barr, Richard Bonney, Steven Ferreira, Deborah DeIrish, Curtis Mae McNair, Richard Cruz.
Challenge slate: Stephen Nelson, Doris Roman Nelson, Waith Mitchell, Carmen Harron, Charlie Stallworth, Mary McBride Lee, Fred Gee Jr, Darrett Evans Moss, Craig Jones.
136th District: Carlos Silva, John Gomes, Adelaide Esteves, Gloria Carbone, Jose DePina, Derek Williams, Lawrence Moore Jr., Mark Bush, Angel DePara Jr.
Challenge slate: Christopher Rosario, Jose Casco, Fabio Mazo, Lawrence Osborne Jr., Wanda Geter Pataky, Cruz Cotto, Dennis Bradley, Richard DeJesus, Mark Trojanowski.
137th District: Gilberto Hernandez, Lydia Martinez, Banjed Labrador, Joe Rosario, Maria Rivera, Guillermo Marin, Aidee Nieves, Juan Hernandez, Maria Ines Valle.
Challenge slate: Clinton Iannotti, Anderson Ayala, Alberto (Tito) Ayala, Jacqueline Richardson, Rueben LeBron Jr.
138th District: Richard Paoletto Jr, Martha Santiago, Michael Marella Jr., Christopher Anastasi, Kevin Monks, Kelly Ann Perez, Madeline Lopez, Andrezej Narolewski, Barbara Powell.
Challenge slate: Scott Hughes, Ann Barney, Pat Fardy, Twana Johnson, Melanie Jackson, Pearlye Sams-Allen, James Morton III, Nadia Pearce, Noel Sepulveda.