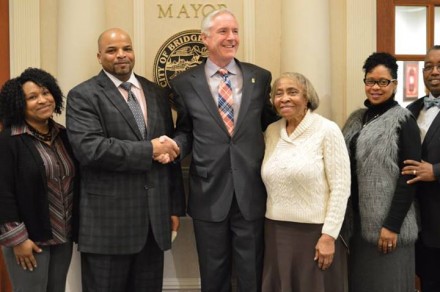 UPDATE: YouTube video of Finch swearing in Allen to Ethics Commission taken down. Mack Allen, a new member of the city's Ethics Commission, is the latest controversy that has embroiled the charter group managing Dunbar School. It was disclosed on Wednesday the community outreach coordinator working at Dunbar School has a criminal history that includes multiple drug offenses and is also listed as a low risk level on a sex offender registry in Texas. Acting Superintendent of Schools Fran Rabinowitz described the latest revelation as "incredibly disturbing." This is a thorny issue for Finch, irrespective of Allen claiming he has redeemed himself. Finch was aware of Allen's drug past, but not his listing on a sex registry, according to the mayor's spokesman.

Thursday morning a YouTube video OIB posted Wednesday night of Finch swearing in Allen to the Ethics Commission was made private, presumably by New Vision International Ministries where Allen also works.
Ethics Commission members are appointed by the mayor and confirmed by the City Council. Allen has spoken often about redemption from drugs–including his confirmation hearing before a City Council committee–and in a city like Bridgeport, redemption is a path to assimilate back into a community. But as an Ethics Commission member? (Related story about his approval by City Council follows this story.)
Finch's spokesman Brett Broesder issued this statement in response to the Allen revelations:
"The administration was aware of Mr. Allen Junior's past drug convictions. But Mr. Allen Jr. served his time. He's become a pillar of the community. We've known him to be an employee at New Vision International, and he's highly recommended by his pastor. We also know him to be serving as a great example of how people can persevere and turn their lives around. Regarding tonight's revelations, it was not disclosed to the city that Mr. Allen Jr. had a sex offender conviction in another state. And, Mr. Allen Jr. is not listed on the Connecticut sex offender registry.

"We're still collecting the facts on this particular case. But the bottom line is that Mayor Finch has two kids who have graduated from Park City public schools. He also has two kids who currently attend Bridgeport public schools. He would never want kids to attending a school where a registered sex offender works. That said, Mayor Finch is calling on school officials in Bridgeport to take whatever actions are allowable under the law to ensure no registered sex offenders are working with kids in our schools. He's willing to do whatever he can to make certain that this happens. And, he's calling on legislators for a change in the law to ensure national sex offenders registries can be part of routine background checks for appointees on boards and commissions.

Bridgeport's Office of Internal Affairs (OIA) conducts a local background check on every appointee to a city board or commission. They also check the Bridgeport Police Department records. In addition, OIA works with the state to perform a Connecticut background check on every candidate. But OIA is not allowed to conduct a federal background on any board or commission candidates. National Crime Information Center standards do not allow the OIA to conduct a nationwide check on persons appointed to boards or commissions. If an appointee does not disclose their entire criminal history, background checks that are allowed to be conducted by the OIA will not catch said offenses."

In response, Lt. Rebecca Garcia of the Office of Internal affairs made the following statement:

"For what is allowed under the law, we have a very extensive background check process for all potential board and commission appointees. However, we are open to seeking out additional ways to make our process more extensive, as long as they are fair and legal."
Two weeks ago, following disclosure he had a criminal past and falsely claimed he had a doctorate, Michael Sharpe resigned as the chief executive of the company that manages the low-performing Dunbar School. The state is now reviewing its relationship with FUSE. This latest revelation will also ramp up a review by the local school board about the company's management of the school.
From Jon Lender and Ed Mahony, Hartford Courant:
A community outreach coordinator for a Bridgeport school run by FUSE, the embattled charter school group, has a criminal conviction background that includes drug offenses and a listing on the Texas sex offender registry.

The record of Mack Allen, 49, of Bridgeport, surfaced in a confidential background check that FUSE had a law firm perform in January after he had begun working. But the organization didn't inform Bridgeport schools Supt. Frances Rabinowitz about it until Tuesday night, after she requested background information on several FUSE employees as part of an audit.

Rabinowitz said Wednesday that she's "incredibly concerned" about the revelation and that FUSE's failure to disclose it until now adds to her doubts about whether the organization should continue running Dunbar School under a year-old arrangement approved by the state Department of Education.
Full story here.