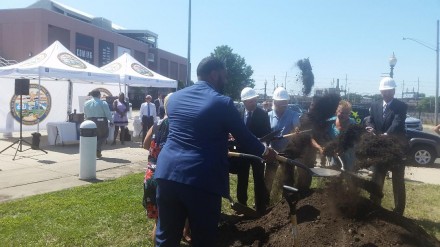 Mayor Joe Ganim, Live Nation concert promoter Jim Koplik and developer Howard Saffan broke ground Thursday on a $15 million warm-weather amphitheater whose boutique tensile roof more than 100 feet high will change the face of the Downtown/South End just off I-95. The venue, replacing the ballpark at Harbor Yard, will seat roughly 5,500 and is expected to open next summer.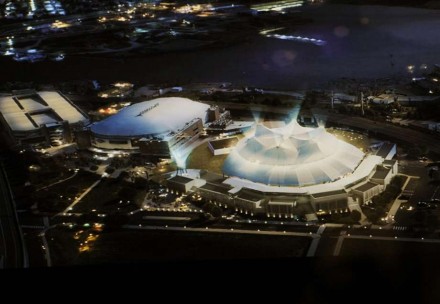 "This is a dream of mine," Koplik, president of Live Nation in Connecticut and New York, told the gathering at the groundbreaking ceremony. Koplik and Saffan, former president of the Webster Bank Arena, said they have resolved any outstanding issues with the current arena operators that feared the amphitheater would pose competition. Koplik emphasized that the 10,000-seat arena is underserved and he on behalf of Live Nation will book more concerts at the venue. Many indoor venues promote few concerts in the summer due in part to cost factors, such as air conditioning.
The first phase of the project–design, structural engineering, final drawings and permitting–is complete. Phase two underway includes site work and footings. The "iconic" tensile roof, according to Saffan, is the final piece. Saffan announced all but a couple of the 22 suites for the venue have been filled. They anticipate more than 250 construction jobs.
Koplik and Saffan also introduced the construction team, Mingolello & Associates Architects, FTL Design Engineering Studio, Szeker Engineering, Jaffe Holden Acoustics, Atlantic Consulting and Engineering and lighting company Bandit Lites.
Who'll be the Harbor Yard Amphitheater opening performer? Mayor Joe Ganim is pushing for Bridgeport native John Mayer. The groundbreaking comes as Ganim prepares for his first head-to-head forum with Ned Lamont in New Haven Thursday night. The two will face off in an August 14 primary for the Democratic gubernatorial nomination.
Following a request for proposals Ganim selected the amphitheater pitch over a renewed submission by the Bridgeport Bluefish baseball team that played at Harbor Yard for 20 years. City officials say the ballpark needed upgrades comparable in price to what the concert venue will cost.
City officials stressed that the amphitheater proposal brings a stronger economic impact to the city in terms of jobs, payments to the city and overflow to local vendors and restaurants. The contract guarantees the city $150,000 annually in rent, but with a projected take on ticket sales estimated at roughly $450,000.
The facility in addition to suites will include three VIP lounges, outdoor barbecue area, hosting 50-75 annual events including concerts, festivals, community events and family shows. It will operate April-October.
The city will split $15 million in improvements with the developer at the city-owned venue financed from the capital improvement fund. See contract here that was approved by the City Council.